Lumpiang Togue definitely brings back good childhood memories when I was in the Philippines. I remember they had these Lumpia stacked up high along with some Banana's and Kamote Q's. I used to buy these things and eat my heart out. The vinegar sauce that is pre-made by the street vendors is out of this world.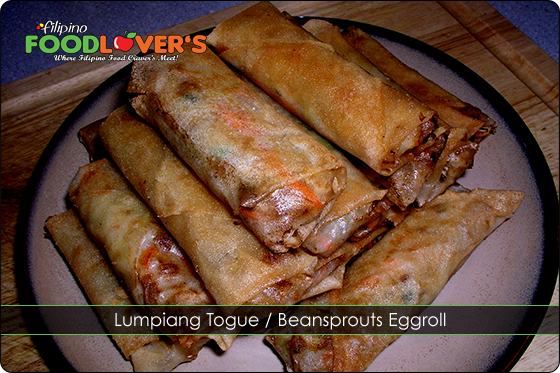 I remember they only cost one peso each. I don't know how much it is nowadays, but back then the dollar rate was 17:1 which means you can buy 17 of these egg rolls for a buck. It is amazing to think that Lumpia is available on just about every corner in the cities of the Philippines and yet over here in the U.S. you have to go out of your way to make 'em or at least where I am at, you can't buy Lumpiang Togue in the store, you can only make them. Anyhow, Filipino's have several wrapped delights that you can find on the streets of the Philippines. This one, however, is one of the most popular ones out there. The stuffing in this one is mainly Bean sprouts, unlike the ones we have here in the U.S. commonly found in most Chinese restaurants that are stuffed with cabbage. The other was the Banana (Plantain) version, which is commonly made to be sweet. Inside, it has two slices of Plantain along with a few strips of ripe Jack Fruit smothered in sugar, wrapped in the Lumpia wrapper, and then deep-fried.
Ingredients:
2-3 cups fresh bean sprouts
2 cups shredded cabbage
½ cup shredded carrots (matchsticks)
1 Lb. Ground pork
½ Teaspoon ground black pepper
4 cloves Garlic, smashed
1 Medium onion, diced
1 Tbs. Fish sauce (patis)
¼ Tbs. Salt
6-7 Stalks green onions (chopped)
Vegetable oil for Deep-frying
Lumpia wrappers
Cooking Process:
Start by pre-heating your wok and then adding the garlic and frying it until golden brown.
After the garlic browns, then you can add the onions and cook until soft.
Next, add the meat to the wok and brown it while stirring constantly.
When the meat is done, you can add the carrots and let it cook for about a minute.
Then add the cabbage and let it cook for about a minute also.
Season your vegetables with fish sauce, ground black pepper, and after a minute go ahead and add the beans sprouts and green onions and let it cook for half a minute while stirring it.
Remove the wok from the heat and let it cool off a bit before you start wrapping it.
After the stuffing mixture has cooled down, begin wrapping it immediately and then deep fry over medium high heat for about 1-2 minutes per batch. That's  it, you're done.
Dipping Sauce:
Mix together finely diced onion, smashed garlic, 1:1 vinegar/water mixture, pinch of salt & pepper and several Thai peppers into a bowl.