Pansit Bihon is very common this dish is in the Philippines; you will find it at just about every special occasion. I am not really sure the reason why this dish is so popular in the Philippines other than the obvious reason that it tastes good and is relatively cheap to make.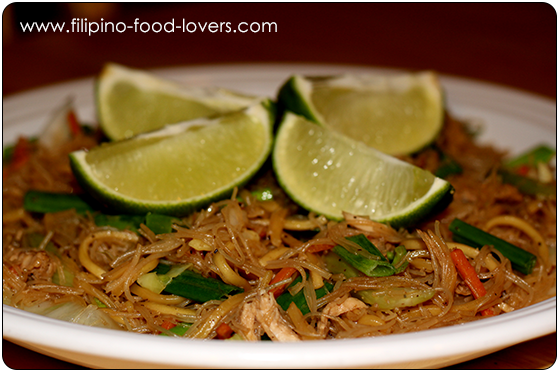 For most Filipino's, they would throw just about any ingredients they have available in the kitchen into this dish. However, I like to keep mine simple; I want the noodles to be the majority of the dish. I cook mine with boiled shredded chicken breast for the meat and a few vegetables to complete the dish. Now, of course, it is not a crime if you wish to load your Pansit with all kinds of goodies. The most common combination you'll find is pork and shrimp for the meat ingredients. However, I have seen people use chicken liver, fried tofu, fish balls, or squid balls, and sausages in addition to those ingredients mentioned above. Which ever route you choose is completely fine, however I would strongly suggest that you do not pre-soak your Pansit prior to cooking. Not only does it seem your Pansit would spoil easily, but it also makes it a lot less flavorful. I know, I used to pre-soak it myself. People pre-soak them because it makes it easier to stir and handles during the cooking process. You can cook Pansit without pre-soaking it and still handle it easily during the cooking process. All you have to do is cut the noodles in half before adding it to the wok, this will greatly reduced your frustrations while cooking this dish.
Ingredients:
1 Package Pansit Bihon noodles (ricesticks)
1 Split chicken breast (boiled and shredded)
20oz. Chicken stock
1 cup of shredded cabbage
1 Cup shredded carrots
½ Cup thinly sliced celery (3 stalks)
1 medium sized onion thinly sliced
½ Cup finely chopped green onions
1 Tbs. Patis (fish sauce)
3 Tbs. Toyomansi (regular soy sauce is fine)
4 Cloves of garlic (smashed)
1 Tsp. Ground black pepper
5 Tbs. Cooking oil
Watch the video and rate it after!
Cooking Process:
Begin by sauteing your garlic and cook it until golden brown, then add the onions and let it cook until soft.
After the onions are done, add the shredded chicken, saute it for a minute, and season it lightly with salt & pepper.
Next, add the carrots and allow it to cook for another minute then you may add the cabbage.
Cook the cabbage for one minute also, then season it with Patis (fish sauce) and Toyomansi (soy sauce with calamansi) and cover it and bring it to simmer.
Add the chicken stock and bring it rapidly to a boil. Once the chicken stock is boiling, add your Pansit Bihon (ricesticks) making sure that the noodles are submerged into the chicken stock as much as possible.
Cover the wok and let it simmer for about a minute on high heat. Remove cover and lower your heat to medium low and begin incorporating all the ingredients together.
It is very important at this stage that you lower the heat. This will allow you to keep stirring your noodles without scorching them (burning the noodles).
When the noodles are about ¾ of the way done you can add the celery and keep stirring it for two minutes. Taste your noodles for doneness and also adjust the taste by adding salt & pepper if needed.
When your noodles are done, add the green onions, and stir the whole thing for an additional minute and you should be done.
Remove the wok from the heat to avoid scorching the bottom of your noodles. Serve it warm with Patis and Calamansi or/ Lime or Lemon if Calamansi is not available on the side.
Enjoy your Pansit!
Note:
The picture shown is different from the recipe on the video. The picture shown used a combination of Pansit Bihon and Pansit Canton, if you wish to add Canton Noodles just double the amount of chicken stock and add more vegetables. Otherwise everything stays the same.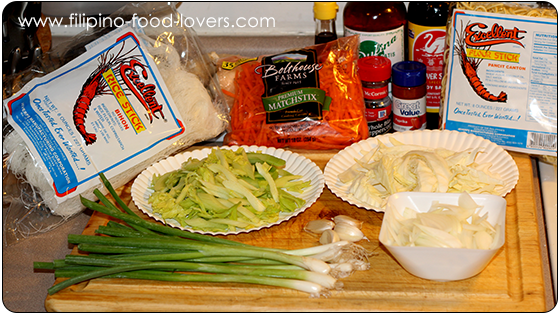 Pansit Bihon Picture Gallery