When it comes to this dish I just can't get enough if it. There are so many variations when it comes to Nilagang Baka or Beef Soup Bones, but this one has to be one of my favorite ones.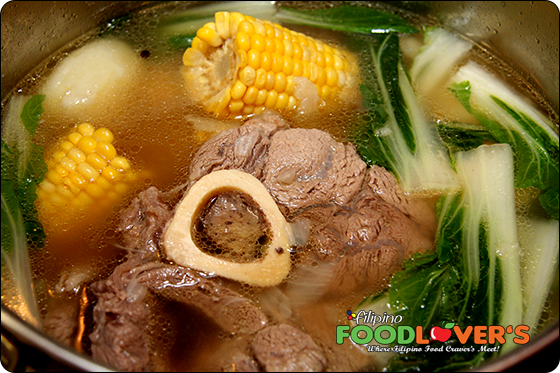 Bulalo or Beef Shank is not the most healthy food among Filipino's line of goodies, as a matter of fact, I would not suggest this dish if you are watching your calorie intake or advised by your doctor not to eat anything high in cholesterol.yeah, the one that other Nilagang Baka does not have is the Marrow which is very flavorful and very delicious. However, if you are one of the lucky ones that do not have any diet restrictions, by all means enjoy this dish. Bulalo is ranked as one of the top Nilaga (boiled) dishes in the Philippines due to its rich taste and very satisfying broth. Unlike others, like Nilagang Baka of Beef Soup Bones, which are either too bony with not enough meat or too meaty with not enough bone. As we all know, meat that is cooked with bones in it tastes way better than it's lean counterpart. Bulalo however differs from them. Bulalo or Beef Shank has a good sized bone as well as the meat part, and oh This is what really separates Bulalo from any other Nilaga. Anyway, Bulalo can be found in most upscale restaurants for the reason being that it is not the cheapest choice of meat in the Philippines.
Ingredients:
2-3 Lbs Beef shanks (about two medium pieces)
3-4 Bunches of Bok choy (trimmed/cut and rinse thoroughly)
1 Tbs. Whole black peppercorns
2 Tbs. Patis (fish sauce)
1 large onion
3 Medium potatoes (halves)
2-3 Corn on the cob (halves)
12 cups water
Calamansi for dipping sauce
Cooking Process:
Rinse beef shanks before cooking. Bring water to a boil and then add beef shanks.
Bring water back to a boil and then skim off any scum that rises while the water starts to boil.
After skimming off the scum, you can go ahead and add the onions, peppercorns, and patis (fish sauce).
Let it cook for ten minutes, then add the corn, and bring it back to a boil. At this time, it should cook for twenty minutes.
After 20 minutes, you can go ahead and add the potatoes and let it cook for ten minutes.
Then go ahead and add the bokchoy.
Cook the bokchoy for 2 minutes and remove the pot from the heat.
That is it, you're done!
Serve Bulalo with Patis and Calamansi mixture for dipping sauce!
Please watch the video and subscribe to our channel