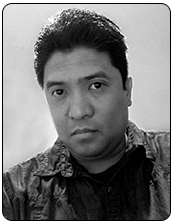 My name is Robert Colinares,  I started this blog back in 2007 with the sole intent of sharing my cooking fascination and helping others who share the same cooking interest. I am a Filipino American, married to a beautiful American woman, and a father of two wonderful boys. I was born in Antipolo City and then moved to Quezon City where I grew up before coming to the U.S. in 1992. Since I made this blog, I am quite touched to find out how much my readers appreciate what I do and because of that I am now more motivated than ever to share my cooking methods, recipes, and skills to help others make their kitchen experience a little more fun and exciting. There are ways of being able to indulge yourself in some of our native tastes. We can share recipes, cooking methods, and where to get those authentic Filipino ingredients or what's the best substitute for it. Living here in the Midwest can be quite challenging when looking for certain Filipino ingredients, but luckily we have an International Grocery Store that sells Filipino food and other Asian food supplies which allows me to have access to some of our native ingredients. Although this is mainly focused on Philippine cuisine, I'm not leaving out the western cuisine. Having said that I'm also going to include American food on this recipe blog site for the ones who wish to serve their family American food. So, if you like food/cooking or would like to learn to cook then you certainly come in the right place!
-- My Eating & Cooking Background --
My eating and cooking background comes from my country of origin, the Philippines. Our diet there consists of Beef, Pork, Chicken, Seafood, and Vegetables; however, since I belonged to a less privileged family we couldn't afford to have meat dishes for the most part. After moving here to the U.S. and being on my own, I started to learn how to cook my native dishes, especially once my parents moved back to the Philippines. At that point, I began to take cooking more seriously and actually incorporated it into my daily routine and became the designated "cook" in the house whenever my wife and I began living together. I actually enjoy cooking as much as watching sports; to me cooking is like a past time. I know to some people it's a chore, but not to me. I enjoy cooking in the kitchen as much as most men enjoy cooking in the backyard (grilling in the backyard). Then again, to most men, backyard cooking is a form of entertainment since they usually do it while watching sporting events like baseball, football, or while tailgating. So, with that being said, when it comes to cooking in the kitchen as part of a daily routine, their enthusiasm quickly disappears and they consider it a chore that only women should do and they should not be a part of. Obviously, that's not how I perceive cooking; I take it very seriously and I actually feel bad if I can't cook for my family because of other engagements I have to take care of like finals week or if I have to go out and do a video shoot. Another thing is that my family doesn't practice the traditional sit down meal. We tend to eat at different times, but no matter what I usually cook and feed my wife and kids and then I'll cook my food last. I know that eating together is very important, and I have every intention of getting our meal routine back to normal when I'm finished with school. By that time, we'll be eating our meals the traditional way, sharing our food together at the table, and of course talking about how our days went. I would also like to cook more healthy food rather than the frozen quick and easy ones that we do now. I do try to cook and serve warm meals for breakfast, but there isn't that much to choose from. I am basically stuck cooking bacon or sausage and pancakes in the morning. My kids do not like eggs so that makes my choices even narrower. Another challenge I face is that there are times that I end up cooking three different meals. This happens sometimes when I cook some of my native dishes that no one else in the family is brave enough to try. I end up being the only one to eat it, and end up cooking something for my wife and another type of dish for the kids. Basically, that is my daily cooking experience; for the most part, I enjoy it a lot. Every once in a while I feel frustrated that I cannot cook for my family due to school obligations or my freelance video production business, but when I can't cook sometimes it's a good thing. It gives us an excuse to order something and that is a treat for my boys, especially when they get to have pizza for dinner.
Comments or questions are welcome.