Siopao is another dish that Filipinos adopted from the Chinese and it became very popular and a favorite among many. Siopao is also called Salapao in Thailand, Baozi in China, Pau in Hong Kong, or simply known as Steamed Buns in English. Basically, it is a steamed bun filled with a savory meat filling.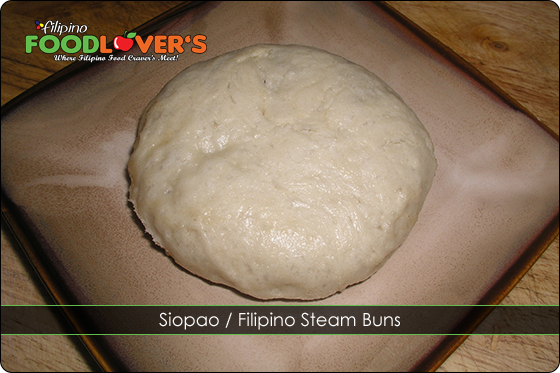 Back when I was in the Philippines this was one of my favorite snacks or meals. It does not require utensils to eat and it can be consumed on the go. That's one of the reasons Siopao can easily be found on the sidewalk at vendors or eateries (Turo-Turo). Whenever I got here in the U.S. I sort of forgot about Siopao and needless to say I had not had it in a long time until I came across it on the Internet while browsing around. The last time I ate Siopao was when my sister in-law made one, but she made it out of mix found in many international grocery stores. It was ok, but I wanted to make mine from scratch. So I started looking for recipes on the web and studied theirs so I could try and make my own version while my mouth was watering at the same time. As many of us know when your looking for recipes online a lot of the recipes are copied from someone else's and most of them have not even tried the recipes. Often enough you ask yourself a question, does this person who posted this recipe even know how to cook at all? Probably not! They obviously don't have any business having a recipe site whatsoever. I am not a professional chef or cook, but when I share my recipes with others I can assure you that I have cooked it first then eaten the dish myself and made certain adjustments until I was totally satisfied with it. Otherwise I would not even think of posting the recipe. I write my own recipes based on how exactly I cooked it. Anyway let's look at the recipe and start steaming Yum!.. One piece of advice is that you don't try to make this if your hungry because it does take a little time and patience to get the final product, but it is very rewarding. I asked my American wife to try it and she said it was ok, but she would rather have ham and cheese for stuffing. I told her this is Siopao, not Hot Pockets. I did mention before that she is picky right? Anyway it's more Siopao for me, 12 Siopao to be exact, and I was the only one here to eat all of it.
For the Dough
Ingredients:
3 Cups of all-purpose flour
1 Packet active dry yeast
1 ½ Cup of luke warm water
½ Cup white sugar
½ Cup shortening (Crisco)
1 Tbs. salt
Food coloring (red) for flavor identification
Directions:
In a large mixing bowl dissolve yeast in luke warm water, add sugar, salt, and 2 ½ cups of all-purpose flour.
Beat thoroughly until you have the consistency of a soft sponge.
Cover loosely with seran wrap, set aside, and let it rise for 30 minutes.
Add shortening, (Crisco) mix well, and then add the remaining ½ cup of all-purpose flour.
Knead until smooth.
On a flat surface, counter top or table top, dust surface with flour and roll the dough to form a 2 in. tube.
Keep adding flour if needed to avoid the dough from sticking to the surface and to your hands.
After forming the dough into a 2 in. tube, cut dough with a sharp knife using a cutting board so that you have 2x2 in. pieces.
Place on a tray, line with wax paper, and dust with flour.
Set aside.
For the Filling
Ingredients:
1 ½ Lbs. Pork or Chicken cut in ¼ in. cubes
4 Cloves of garlic smashed
1 Small onion diced
3 Tbs. Soy sauce
3 Tbs. Hoisin sauce
2 Tbs. Oyster sauce
½ Cup of water
4 Tbs. Brown sugar
½ Tbs. Ground black pepper
1 Tsp. MSG (optional)
1 Tbs. Cornstarch
2 Tbs. Asian sesame oil
2 Tbs. Shortening (Crisco) for sauteing
6 Hard-boiled eggs
Directions:
In a large frying pan heat and saute 2 Tbs. of shortening over medium heat.
Next saute garlic until golden brown, add onions and cook until onions hit the shiny stage.
Then add meat, (pork or chicken) saute it for 2 minutes, cover, and let simmer for 5 minutes over medium low heat.
In a mean while, mix cornstarch in a small bowl with ½ cup of water until totally dissolved, set aside.
After five minutes remove cover, stir the meat, and add the following: soy sauce, hoisin sauce, oyster sauce, cornstarch-water mixture, and the brown sugar.
Then season it with msg, black pepper, and sesame oil.
Stir well and bring to a boil. Let it simmer uncovered for another 5 minutes on low heat while stirring occasionally.
Remove pan from the heat and let it totally cool.
Take the dough cut in 2x2 in. pieces and dust each one with flour.
Next roll each individual piece into a ball with your hands and lay the rounded dough onto a flat surface.
Again dust with flour.
Using a rolling pin flatten the dough to 3/8 of an inch thick or about 5 inches in diameter.
Slice hard-boiled eggs crosswise and carefully arrange 3 slices at a time onto the center of the rolled-flattened dough.
Then spoon about one spoonful of pork or chicken filling onto the center of the dough.
Pull edges of the dough together and twist together firmly.
Using wax paper cut in 4x4 inch pieces, place buns on there upside down so the smooth side is up on the wax paper.
Steam Siopao for 25 minutes per batch.
Enjoy your Siopao and if you made a little too many to be consumed at one time, relax.
You can freeze these buns and re-steam them for 15 minutes later.
Just make sure you thaw it out first.
Tips:
You can use microwave to reheat your frozen Siopao without thawing it first by wrapping it with two layers of moist paper towel and heat it for one minute.