Pork Lechon or Litson is probably one most crave food in overseas. I know I did crave for it a lot in my early days here in America. The main challenge of cooking Pork Lechon is getting the skin crunchy without burning before the whole hog gets properly cooked. Also, for the most part we only need small servings and not the entire hog.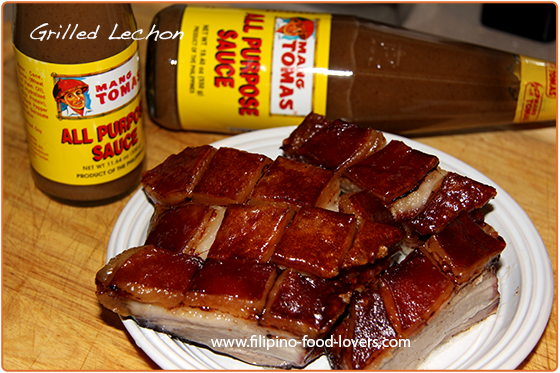 After searching a little for the best way to cook a small sized serving and still have that authentic taste of  real Pork Lechon, I came up with this recipe. It has the taste and texture of a full size Pork Lechon and most importantly the crunchy skin that we Filipinos love. To me, this recipe is by far the best tasting one. It's definitely better than baking it, and using a grill to cook it does not leave that funny taste you get when it's baked.
Ingredients:
2 to 3 lbs of Pork Liempo (Pork Belly) with skin
10 Cloves of Garlic smashed for the Pork Belly
1 TBSP of Soy sauce
5 Cloves of Garlic for the vegetable bed
5 Sticks of Celery cut into 1-inch pieces
1 large Onion chopped
2 Bay leaves (Laurel)
Salt & Pepper
Instructions:
Begin by rinsing your Pork Belly, making sure that you dry it thoroughly, and then setting it aside.
Next, you need a baking dish or pan that is big enough to fit the Pork Belly and to layer the vegetables (celery, garlic, onions, bay leaf and salt & pepper) on the bottom on the baking pan.
After that, prepare the Pork Belly by rubbing the garlic all over its skin and the meat.
Then cut slits in a diagonal. See picture to clarify this.
And finally, drizzle one Tbsp. of soy sauce on the skin and place the whole Pork Belly in the roasting pan.
Notes:
I didn't document the exact time, so the above cooking time is only estimate; I cooked this Lechon using the thermometer method. First, I tried to set my temperature not to exceed 350º degrees Fahrenheit. Then, I left it on the grill for an hour and a half while checking it occasionally to make sure it was not cooking too quickly. When the meat reached 170º degrees internally, I then increased the heat significantly to make the skin crunchy. I went from 350º to 450º and I checked it constantly to make sure I didn't end up burning the skin. All you want from this stage is to get the skin crunchy. As soon as it does remove the roasting pan from the heat and let it cool off. That is it, you're done, enjoy your juicy and crunchy skinned Lechon! Oh, make sure you serve it with Sarsa ni Mang Tomas and some white steamed rice.