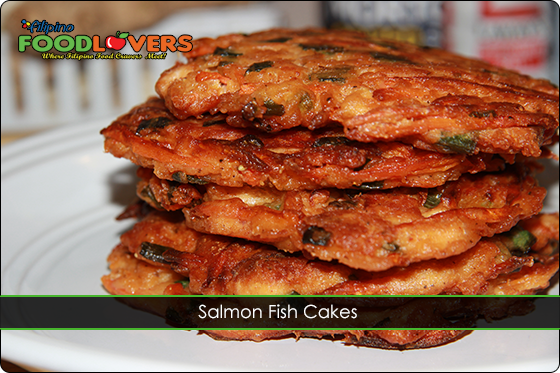 Fish cakes
come in so many versions that you can actually adjust the taste to whichever country you're from and the result is always mouth-watering satisfaction. I remember growing up in the Philippines, these cakes could be found just about anywhere when the street food vendors were around. Filipinos eat these cakes mostly as snacks using vinegar for dipping sauce. This can satisfy hungry folks on the move with just a little change to spare. Now, let's take a look at this version of fish cakes. As you may notice, I specifically asked not to omit the fish sauce because I consider it a vital seasoning for this particular dish. Also, don't forget to grab a bottle of Sriracha sauce; this is another key ingredient and condiment for this awesome dish/appetizer. Let's get to cooking!
Ingredients
2 Cups Shredded carrots
1 Cup Green onions (chopped)
1/2 Lb. Fish meat, I used salmon
Cooking oil for frying
For the batter
1 Cup All-purpose flour
1 Tsp. Ground black pepper
1 Tsp. Salt
1 Tsp. Paprika
1 Tbsp. Fish sauce - don't omit this one
1 Tbsp. Sriracha  hot sauce
Lime soda, 7-Up or Sprite
 Cooking Instructions
Prep the fish -- Slice it into thin strips and make sure the the skin has been removed, then season it with salt & pepper.
For the batter -- Add flour into a mixing bowl, then slowly add lime soda while stirring it constantly. Add enough liquid until you get a pancake batter consistency.
Season the batter with salt, fish sauce, ground black pepper, paprika, and sriracha hot sauce. Mix all these ingredients until they're well incorporated.
Add the fish meat into the batter along with the carrots and green onions. Mix all of them well until all are well coated.
Frying
Spoon the fish cake mixture into half a cup measuring cups and then add then into the frying pan with pre-heated cooking oil and form then into pancake shapes.
Fry them over medium heat for 4 minutes on each side and use a plate lined with paper towels to drain the excess oil once it is done cooking.
Serve it with your favorite sides or you can eat them by themselves using Sriracha hot sauce for dipping sauce. Enjoy!