Whenever we're talking about food that Filipino's inherited from the Spaniards, Afritada is one of the dishes that stand out. In Philippine cuisine there are several dishes that use tomato sauce based ingredients and Afritada is definitely one of them.
Ingredients:
2 Large chicken breasts cut into 2 in. cubes
5 Beef franks hotdogs cut in 1 in. diagonal pieces
1-15 oz. can of tomato sauce
1-8 oz. can of tomato sauce
1 Medium sized onion sliced thinly
4 Garlic cloves peeled and smashed
2 Medium potatoes peeled and quartered
1 Large carrot cut in 2 in. long pieces
1 Red bell pepper seeded and cut in 1 in. strips
1 Bay leaf
1 Tsp. Ground black peppercorns
½ Tsp. MSG
½ Tbs. Salt
Note:
You can substitute the hotdogs with chicken liver if you prefer. I have also combined chicken and pork belly before with great results.
Directions:
In a large pot combine chicken, garlic, onion, ground black pepper, msg, tomato sauce, (both cans) and bay leaf. Stir and bring it to a simmer. Cover pot and let it cook for 12 minutes on medium low heat. Add hotdogs, carrots, and potatoes. Stir and cover pot and let it cook for another 15 minutes or until potatoes and carrots are tender. Adjust taste by adding more salt & pepper if needed. Finally add the red bell peppers and cook it for another 5 minutes. Serve rice and top with chicken Afritada and patis for dipping sauce. Enjoy!
Patis
=
Fish Sauce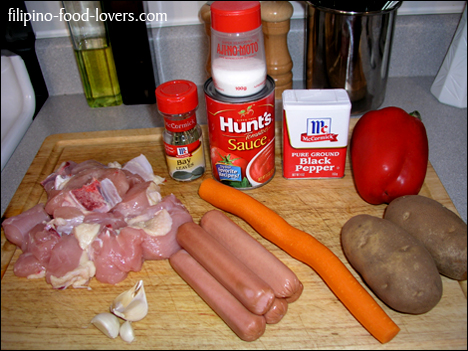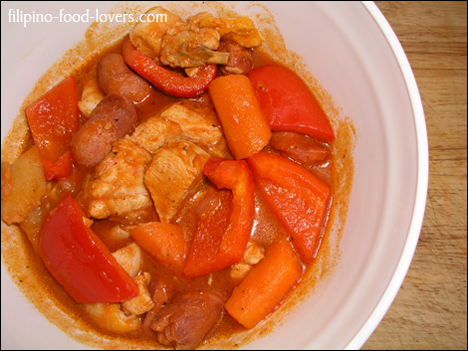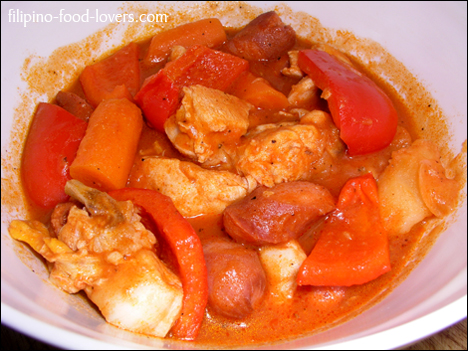 There are two types of Afritada, pork and chicken, and chicken is the easier version to cook. That is why I often prepare this dish rather than the pork counterpart. I have to admit I like the pork version better, but when you have limited time to spend in the kitchen, Chicken Afritada makes the perfect candidate to satisfy my taste buds. Now the recipe!