Some people say that Ampalaya Con Carne is basically the Cadillac of the Ampalaya dish variety. Whether I would agree or not, let's find out. I normally cooked Ampalaya the way my Mom had taught me with shrimp, shrimp paste, and pork belly
"ginisang ampalaya"
and always had great results.
Bagoong alamang seems to tame down a lot of the bitterness. So cooking this dish this way is somewhat out of my comfort zone. But looking at some of the recipes I found on the web, I was convinced it was worth a try and the pictures looked great, but did the actual taste do me justice? You'll find out shortly. For now let's take a look at the recipe.
Ingredients:
1 Large ampalaya (bitter melon / bitter gourd) 1 Small onion, cut in half and sliced crosswise 2 Tbs. Ginger root julienned 2 Garlic cloves, peeled and smashed ¼ Cup of water 1 Tbs. Soy sauce 1 Tsp. MSG Corn oil for stir-frying
The Marinade:
½ Lb. Beef loin 2 Tbs. Soy sauce 1 Tbs. White sugar ½ Tsp. Salt 1 Tbs. Cornstarch 1 Tbs. Asian sesame oil 2 Garlic cloves, peeled and smashed
Directions:
Prepare Ampalaya by cutting it in half lengthwise and removing the seeds. Make sure you scrape the white stuff off also. Slice it ¼ of an inch thick diagonally and place in a bowl large enough to fit all of it. Next smother it with plenty of salt and add water just above the ampalaya and let it soak for 20 minutes. After soaking, rinse it thoroughly and make sure all the salt has been rinsed off.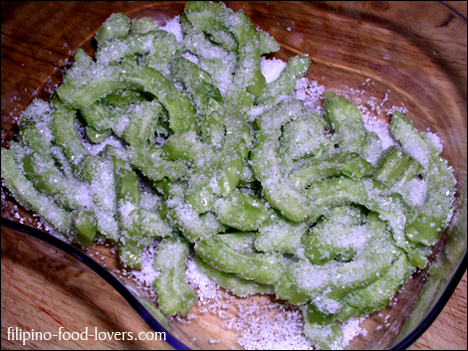 The beef:
Slice beef loin in 2 x ½ x ¼ in. slices across the grain and place in the bowl along with soy sauce, sugar, salt, msg, cornstarch, sesame oil, and garlic mix well. Cover and sit it in the fridge for 20 minutes. In a wok heat 2 Tbs. of corn oil to a smoking point. Saute beef in batches for 15 seconds or until beef is no longer pink. Repeat this process until all beef is done and place it on a plate and set aside. In the same wok heat 1 tablespoon of corn oil, add garlic and ginger and saute it for 15 seconds. Next add the ampalaya and saute it for one minute. Then add onions, the beef, and all the juice accumulated to the wok. Add water, msg, soy sauce, cover and let it simmer for 6 minutes on medium low heat or until the ampalaya is tender. Adjust taste by adding salt if needed. Serve hot with rice. Enjoy!
Question:
Did I like this dish?
Answer:
Yes, I actually liked it and it would be on my favorites list!
Tip 1:
Ampalaya are seldom mixed with other vegetables due to their strong bitter taste, although this can be moderated to some extent by salting and then washing the cut ampalaya before use.
Tip 2:
When sauteing beef in batches always allow the wok to re-heat before adding the next batch of meat and add oil every batch if necessary.
Tip 3:
After cooking let it sit for at least 5 minutes before serving. This will also help tame the bitter taste while giving the flavor a little time to blend in.