Burger Beef Stew is my version of regular Beef Stew. I use ground beef, which has a few benefits over regular stew meat. For one, hamburger doesn't require cooking a long time for it to be tender, it is easier to cook and handle, and lastly, it's a bit cheaper than regular stew meat.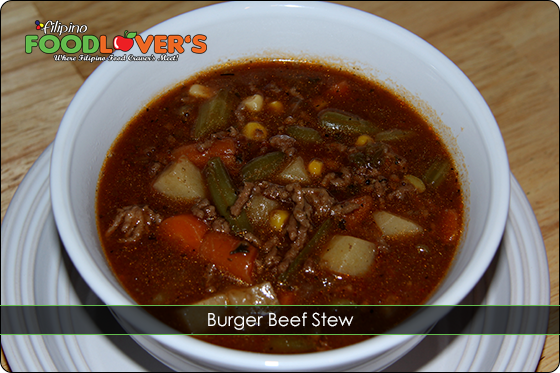 This version fits the busy life of a typical American family, since most of the ingredients are canned; this cuts the prep time significantly. I am using several types of vegetables to give this dish a variety of flavors and beef stew mix to make it thick and hearty. The few things you have to chop yourself are the onions, celery, and carrots. Everything else is in cans, and they are mostly ready to go when the recipe calls for it. Okay let's begin!
Ingredients:
2.25 lbs. lean ground beef
2 15oz cans cut Green Beans
1 15oz can stewed tomatoes
1 11oz can whole kernel corn
2 15oz cans beef broth
2 1.5oz packets of beef stew mix
1 cup chopped celeries
1 cup chopped carrots
3 ½ cups diced potatoes
Cooking Instructions:
Prep green beans
before you begin by opening both cans, drain water, rinse four times, and set aside.
Prep beef stew mix
by dissolving both packets in one cup of water, stir it well, make sure all the lumps are gone, and set aside.
In a large pot, brown ground beef making sure that it's broken apart thoroughly and drain any liquid that accumulates.
Add chopped onions, stir well, and let the onions cook for 3 minutes while stirring constantly.
Add chopped celery, stir well, and let the celery cook for three minutes as well while stirring constantly.
Pour the two cans of beef broth into the pot, add chopped carrots, and stir well. Cover the pot and allow it to cook over medium heat for three minutes.
Remove cover and then add the sweet whole corn kernels, stir well, and replace the cover. Allow it to cook for three minutes also over medium heat.
Add stewed tomatoes, stir well, and add the cut green beans. Stir well again, cover, and let it simmer for five minutes over medium heat.
Add chopped potatoes, stir well as usual, then cover, and allow the potatoes to cook for three minutes.
For your last ingredient, stir the prepped up beef stew mix since a lot of the mix has settled down in the cup, and make sure it is smooth and free of lumps before adding it to the pot.
Once you add the beef stew mix, you will need to keep a close eye on it, and stir it constantly every minute for the next seven minutes. This will allow the beef stew mix to cook and finish cooking the potatoes.
Now, your last step is to adjust the thickness of the stew by adding more beef broth if needed. If it's too thick or simply not enough broth, or if it's too runny, you can mix one tbs. of cornstarch with two tbs. water and add it to the stew.
You need to allow the cornstarch to cook for at least two minutes to determine the thickness of your stew. You may repeat this process a few times until satisfied.
That's it you're done. Serve this dish western (crackers and cheese) or eastern style (pour stew over white steamed rice). I will leave that up to you!