Chicken & Broccoli is another favorite among Filipinos. Although it's not really a traditional Filipino food, it does share just about every ingredient that is commonly used in the Philippines. With that being said, Filipinos didn't have any trouble adapting to this wonderful dish.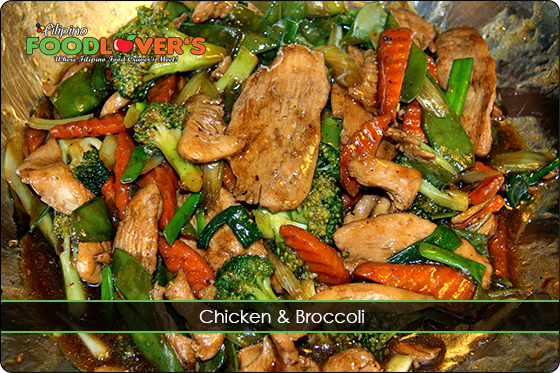 The way I cook this recipe is pretty much the same as I do with its counterpart dish, Beef & Broccoli. So, we are going to marinate the chicken in the same manner that we did with the beef counterpart. Just like any other Chinese style, with stir-frying everything must be prepped up prior to cooking, otherwise you will end up burning the dish long before all the ingredients are incorporated. Okay, let's get started.
Ingredients:
1 boneless skinless chicken breast, sliced diagonally and thinly
2 cups of chopped Broccoli
½ cup chopped Carrots**
½ cup Snow Peas (sitsaro), cut in half diagonally
3 Celery sticks, thinly sliced and diagonally
1 tbs. Ginger, peeled and julienned
2 cloves of Garlic, peeled and smashed
½ cup Scallions, chopped into 1 inch length
2 tbs. Oyster sauce
1 tsp. ground black Pepper
4 tbs. Cooking oil
For the marinade
3 tbs. Soy sauce
1 tbs. Sugar
1 tsp. MSG – optional
For the sauce
3 tbs. Cornstarch
3 tbs. Soy sauce
½ cup Chicken broth or water
1 tsp. MSG – optional
1 tsp. Sugar
2 tbs. Sesame oil
Cooking Directions:
For the Chicken:
Slice chicken breast along the grain into 1/8 inch thick bite-sized pieces.
In a bowl mix together soy sauce, sugar, salt, msg, and the chicken. Cover and let it marinate for 15 minutes in the fridge.
Make the sauce while chicken is marinating
In a bowl mix and dissolve the cornstarch into the chicken broth (water is fine) and then add the soy sauce, sugar, sesame oil, and msg.
Mix well until the entire amount of cornstarch is totally dissolved and then set aside.
Now let's begin.
Heat wok or pan with 2 tbs. of cooking oil.
Add chicken and keep stirring it then allow it to cook thoroughly.
Remove chicken and set aside.
In a clean wok or pan over medium heat, add the remaining 2 tbs. cooking oil, then the garlic, and allow it to cook until golden brown.
Add ginger and stir for15 seconds, then add the chopped carrots, and continue to cook for two minutes.
Add snow peas and let them cook for about a minute.
After 1 minute, add broccoli, and let it cook for 2 minutes.
Add celery and let it cook for 1 minute, then add the chicken back to the wok, and season it with ground black pepper.
You may now season it with 2 tbs. oyster sauce and continue to stir all the wok for half a minute.
At this point, you can go ahead and add the sauce you pre-made earlier. Make sure that the cornstarch is completely dissolved before adding it to the wok.
Keep stirring the wok and allow the cornstarch to thicken. This should take about one to two minutes.
And your final step is to garnish with the scallions and stir one more time.
That's it you're done. Serve Chicken & Broccoli with white steamed rice. Enjoy!
Tips & Tricks:
If you want to chop your carrots like the ones in the picture, you may do so by investing yourself in a wave knife (see picture).
When cooking Chinese style stir-fry, you need to constantly stir the work and for this recipe your temperature should be set at medium high throughout the cooking process.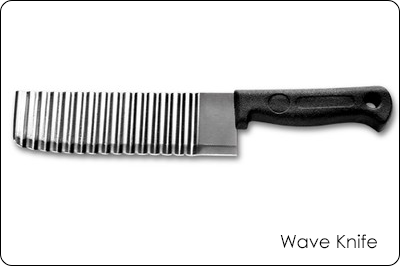 Questions & Comments:
Ask anytime and I will try to answer them as soon as I can.
One last note:
I will be adding more pictures of this recipe as time permits.