Notice:
This recipe is originally published: August 26, 2007 and last updated: February 9, 2013.
Beef and Broccoli is not a typical Filipino dish, but due to the Chinese influence this dish was quickly adapted in Philippines cuisine and became a very popular dish often found at family gatherings as well as special occasions.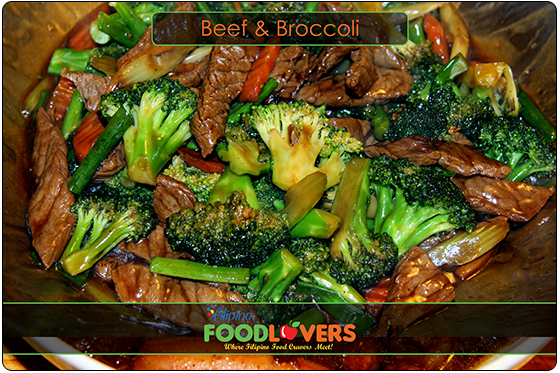 Since this is originally a Chinese dish we're going to prepare and cook it the Chinese way. The Chinese method of cooking is very quick and with high heat. They usually like to stir-fry at 80,000 BTU's (British Thermal Unit), which is why you should have everything ready before you start. Another common thing you'll notice when it comes to Chinese stir-fry is that the meat is always marinated in some way before introducing into the heat. With that in mind I'm going to follow Chinese technique in order to achieve the proper taste that you would expect for this Asian treat. So lets get busy, shall we?
Ingredients:
1 Lb. Beef sirloin
1½ Lb. Broccoli florets
1 Large carrot julienned
1 Small piece of ginger root peeled & julienned
2 Cloves of garlic peeled & smashed
1 Tbs. Dry red pepper flakes
Corn oil for stir-frying
Dry Sherry cooking wine* - (Optional)
Cornstarch
*Soy sauce
*Asian Sesame oil
*MSG - (optional)
*White Sugar
* = See measurements below!
The Marinade
6 Tbs. Soy sauce (Silver Swan)
1 Tbs. White sugar
½ Tbs. Salt
1 Tsp. MSG - (Optional)
The Sauce
3 Tbs. Cornstarch
3 Tbs. Soy sauce (Silver Swan)
¾ Cup beef broth or water
1 Tsp. MSG - (Optional)
1 Tsp. White sugar
½ Tbs. Dry Sherry cooking wine - (Optional)
3 Tbs. Asian sesame oil (

a must

)
Directions:
To prepare the beef
Slice beef across the grain into 1/8 inch thick bite-sized pieces.
In a bowl mix together soy sauce, sugar, salt, msg, and the beef, cover, and let it marinate for 30 minutes in the fridge.
Make the sauce while beef is marinating
In a bowl mix and dissolve the cornstarch and then add the soy sauce, dry sherry, sugar, sesame oil, beef broth, and msg.
Now let's begin:
Heat wok and I mean let it heat really good and then add 2 Tbs. of corn oil and stir-fry beef for 15 seconds or until it's no longer pink in small batches.
Repeat this process until all beef is cooked then set aside.
Warning:
Be aware when cooking with high, intense heat, a possibility of flare-ups can occur especially when the heat source is an open flame such as a gas stove top.
Over medium heat stir-fry garlic, dry red pepper flakes and ginger for 20 seconds.
Next add broccoli and carrots, cover, and let simmer for one minute.
Increase heat to high, add 1/2 cup beef broth, cover, and let it simmer for another minute.
Remove cover, add beef, and all juices accumulated and stir for one minute or until the beef is heated through.
Then add the sauce mix and keep stirring until the sauce has thickened.
Transfer it to the serving platter.
Serve hot with white steam rice.