Tortang Talong (eggplant fritters or/ eggplant-omelette) is a very simple dish that does take a little bit of patience to prepare, but the result is very rewarding. You will find it at just about any restaurant in the Philippines and it is very popular at Turo-Turo eateries.
From what I can remember this is the way we are going to cook it, classic and simple. Cooking this dish is a two-stage process. First you must cook the eggplant by roasting it.

The best way to do this is to roast it on the grill over hot coals or on a gas grill. If you don't have time to do it the traditional way you can also use your microwave.

The second stage is making the batter which consists of scrambled eggs. So let's get down to it and make some Tortang Talong (eggplant-omelette).
Ingredients:
4 Large eggplants
6 Eggs
1 Small onion finely minced
1 Tsp. Salt
½ Tsp. Ground black pepper
Corn oil for frying
Directions:
Heat grill prior to cooking.
Wash eggplants and pierce them all over with a fork.
On a hot grill roast eggplants until the skin is slightly burnt.
Remove from the grill and set aside.
In a bowl beat 6 eggs and season with salt and pepper.
Then add the finely minced onions and set aside.
Carefully skin the eggplants and place them on a large baking pan.
Using a fork flatten the meat of the eggplants and pour egg mixture over the top.
Mix it carefully without tearing the eggplants.
In a large frying pan heat 6-tablespoons oil and place the battered eggplants in the frying pan.
This is the part that you have to be careful not to tear the eggplants while transferring from the baking dish to the frying pan.
While frying one side spoon egg mixture on top of the eggplants, about three spoon-fulls each eggplant
Let it cook over medium high for three minutes.
Then using a spatula carefully turn the eggplants.
Again try not to tear them and let it cook for an additional 3 minutes while checking the eggs for doneness.
You may serve this as a side dish or you can serve it just with rice. Enjoy!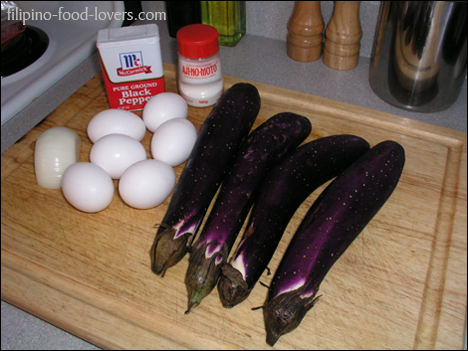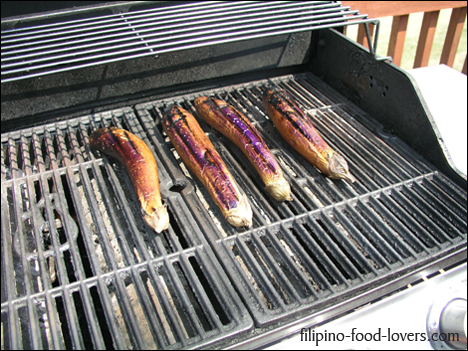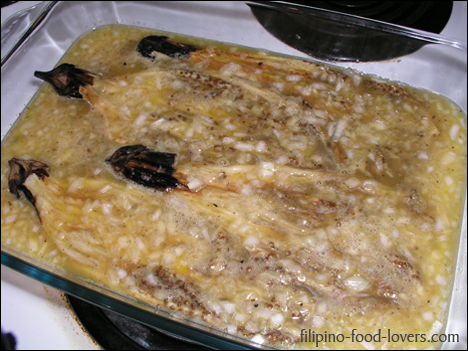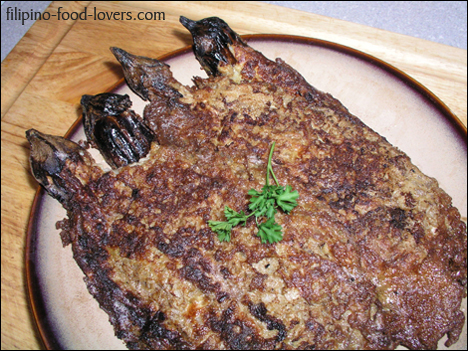 I remember when I was in high school Tortang Talong was one of my favorite foods, not only is it very tasty, but also very affordable. It's just amazing that 16 years later here I am writing a blog about it.