Pork BBQ or Pork Shish-Kabobs is one of the most popular street foods in the Philippines. It originally served as a snack accompanied with liquor or beer, but has found it's way into Philippine cuisine as an appetizer. I have tasted several versions of this dish and they are all good.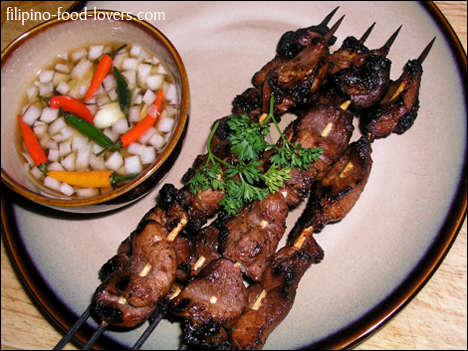 Then I came across a friend of mine's version and it was even better, but when he gave me his recipe it was measured in bulk. The soy sauce was measured in gallons as well as the pineapple juice. He used to work for an Asian restaurant and that's where he learned this recipe. Obviously it was way too much marinade for household use. That's why I came up with my own version, a toned down version. One major difference between our recipes is that he uses Kikkoman soy sauce and I used the Filipino Silver Swan soy sauce. He used lemon and I used calamansi. Anyway this pork BBQ recipe is very good. However, there is a small price to pay. The marinating time requires at least 2 days, no more than three days, and definitely has to be kept in the fridge while marinating. Let's take a look at the recipe!
Ingredients:
For the Marinade:
2 Lbs of pork butt or pork belly cut in 1x1 in. cubes
1 Whole garlic, peeled and smashed (one whole head)
1 Quart of pineapple juice
2 Cups of soy sauce (Silver Swan)
1 Cup of dark brown sugar
1 Tbs. Ground black pepper
1 Tbs. MSG (Vetsin) - optional
8 Tbs. Calamansi or 2 Lemons
Bamboo skewers soaked in water
Ingredients:
For the Basting
3 Cups of left over marinade
1 Tsp. MSG
1 Tsp. Ground black pepper
3 Tbs. of Corn oil
In a large bowl mix all ingredients and mix until all ingredients are incorporated.
Cut pork in 1x1in. cubes and skewer them about five or six pieces per stick.
Make sure the bamboo skewers have been soaked in water over night to avoid splitting.
After all the meat is on the skewers place them in a container with lid big enough for all of them.
Then pour the marinade on top and mix it well.
Make sure none of the meat sticks together.
Place the container in the fridge and let it marinate for at least two days or a maximum of three days.
After marinating pour 3 cups of the marinade in a separate bowl and add the msg, ground black pepper, and 2 Tbs. of corn oil.
Mix well and use it for basting.
Grill over hot coals or on a gas grill and serve with fried rice or serve it as Pulutan. Enjoy!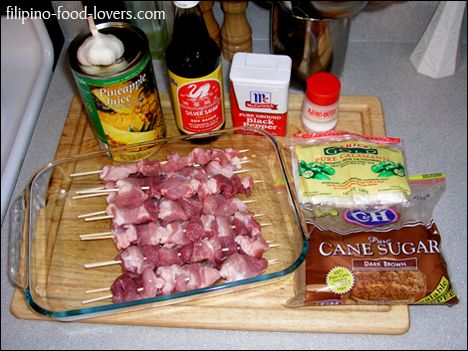 After two days of marinating!