Daing na Bangus brings back a lot of memories from the Philippines. Bangus or Milkfish is a very popular fish in the Philippines and definitely a fish of choice for a lot of different dishes. I have tasted both versions of this dish and they are both very delicious.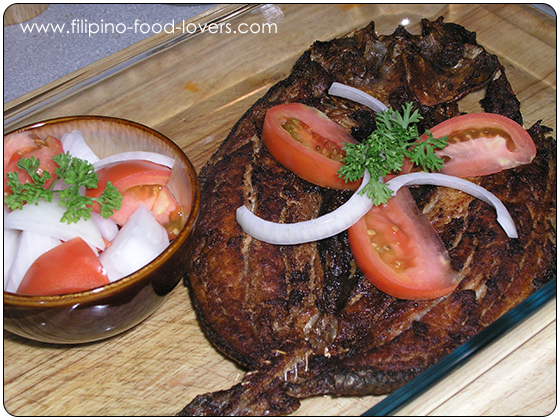 This particular recipe is a mixture of my mom's and my ex mother in-law's. When my mom cooks it she uses soy sauce, but my mother in-law uses vinegar instead for hers. So what I did for mine was combine both recipes and use soy sauce and vinegar. So, here it is!
Ingredients:
1 Large bangus de-scaled, clean and butter-flied
1 Cup of soy sauce
3 Cloves of garlic peeled and smashed
¼ Cup of vinegar
½ Tbs. Fresh ground black pepper
½ Tsp. MSG (optional)
Corn oil for frying
Directions:
In a large pan marinate fish with soy sauce, vinegar, garlic, ground black pepper, and msg (optional).
Place the Milkfish skin side up, cover, and set it in the fridge for an hour before cooking.
 In a large frying pan heat oil about ¼ in deep and fry the fish skin side up first for 4 minutes.
Then carefully turn the fish over and let it fry for 5 minutes.
Next turn it back skin side up and fry for an additional 2 minutes.
Serve with rice and slices of tomato and onions on the side. Enjoy!