Corned beef hash is one of those dishes that you could eat basically any time of the day, at breakfast, lunch or dinner. The best part is you can prepare and cook it really quick. Here is how I do mine.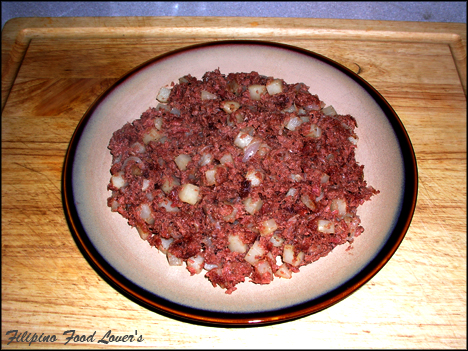 Ingredients:
1 Can of Corned Beef 2 Small sized potato, diced in ¼ inches 1 Small onion, sliced thinly 1 Small bay leaf 2 Cloves of garlic, smashed 1 Teaspoon MSG Salt & Pepper to taste (S&P)
Directions:
In a skillet saute garlic until golden brown and then add onion and cook until it hits the shiny stage. Add corned beef and break it apart. Cover and let it cook for 3 minutes on medium low heat. Add potatoes, bay leaf, MSG, and pepper. Stir, cover, and let it simmer for 12 more minutes on medium low heat. Stir again and add salt just before serving. Enjoy!