Now we are talking about a dish that everyone loves. It took me some time to get this one fine tuned to where I wanted it. Well seasoned breading and meat is the key of a good fried chicken. This one is loaded with spices to get that crunchy, mouth-watering taste that you have come to expect from a fried chicken.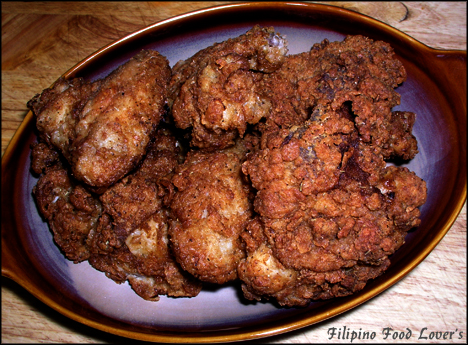 Dry Ingredients:
1 Whole chicken cut-up (2 breast, 2 thigh, 2 legs, 2 wings)
2 Gallons of peanut oil for deep-frying
3 Cups of all-purpose flour
1 Tbs. Garlic powder (not salt)
1 Tbs. Onion powder (not salt)
1 Tbs. Paprika
1 Tbs. MSG
1 Tbs. Salt
½ Tbs. Cayenne pepper
½ Tbs. Ground black pepper
½ Tbs. Ground white pepper
Wet Ingredients:
1 Quart of Buttermilk
2 Tbs. Salt
2 Tbs. Hot Sauce
Directions:
In a large bowl, (big enough to fit the whole chicken cut-up) mix together buttermilk, salt, and hot sauce. Whisk it until the salt is dissolved. Add the chicken and cover the bowl with aluminum foil and let it sit in the fridge overnight (four hours minimum).
| | |
| --- | --- |
| In another bowl, mix all the dry ingredients until all the spices are incorporated. Batter the chicken pieces starting with the two breast halves in a one-gallon zip lock bag and coat the chicken really well. Heat oil to 225 degrees Fahrenheit and then fry the chicken for 12 minutes. Check for doneness. You might have to add more time. I like mine to reach 180 degrees Fahrenheit internal temperature. It's very important that you get a thermometer to check the internal temperature. | |
Remove chicken from the oil and let it drip on a paper towel lined tray, cookie sheet cooling rack works best. Serve it with your favorite side dish. Enjoy!
Know the 411 about Fried Chicken, Click Here!