Toyo Fried Chicken Wings is a choice in most Filipino kitchen since it is easy & quick to prepare and yet very satisfying. This is pretty similar to fried adobo except this does not have vinegar and bay leaf. Most of the time when I cooked this dish is to accompany another dish such as
ginisang baguio beans
,
ginisang sitaw or just serve it with white steam rice.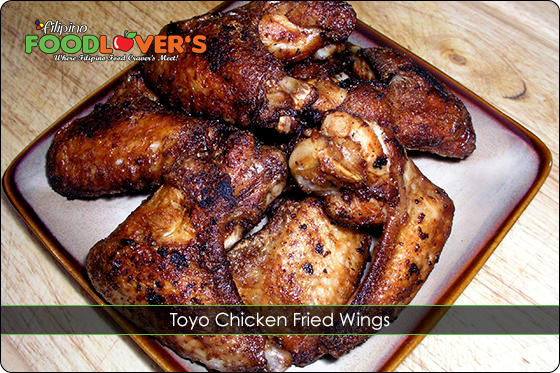 I know that sounds kind a plain but you'll be surprise how many Filipinos eat it that way. Just like my other
fried chicken wing v.1
this is also very simple and easy to make and it also has a very short ingredients list. So, let's get to it.
Ingredients:
2 Lbs. Chicken wings tips remove
6 Cloves of garlic peeled and smashed
½ Cup of soy sauce
½ Tsp. Ground black pepper
½ Tsp. MSG (vetsin) optional
Corn oil for frying
Directions:
Rinse chicken wings with cold water very thoroughly, drain, and place in a large bowl.
Add garlic, soy sauce, pepper, and msg and mix it well.
Cover and set in the fridge for 30 minutes.
In a large frying pan add enough oil (about ½ in deep) and fry chicken wings in batches until both sides are dark brown, usually about 9 -10 minutes on each side.
I like mine very crispy so I cook mine a little bit longer, until they are almost dark brown. Serve with rice and stir-fried vegetables or by it self for pulutan. Enjoy!