When it comes to Philippines cuisine beef liver is one of the common main ingredients and this particular dish is one of the favorites among many. This dish is easy to make and fairly cheap. This is a sauteed version.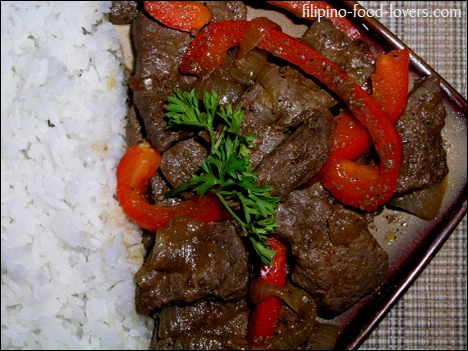 Most western cultures probably have never heard of it being done this way before, but for most Filipinos it is a pretty common one or at least where I came from. For those in western cultures, try it this way. You might like it.
Ingredients:
1 Lb Beef liver cut in 1 in. wide by ½ in. long pieces 4 Tbs. Soy sauce 1 Small tomato, seeded and diced 1 Small onion cut in half and sliced crosswise 1 Tsp. Ground black pepper 4 Cloves of garlic peeled and smashed ¼ Cup of water ½ Tsp. MSG ½ Red bell pepper cut in strips Corn oil for frying
Directions:
In a medium sized frying pan heat 2 Tbs. corn oil and saute garlic until golden brown. Next add tomatoes and saute for 2 minutes. Then add beef liver, soy sauce, ground black pepper and saute for another 2 minutes. Cover and let simmer for 5 minutes on medium low heat. Remove cover, stir, add onion, and ¼ cup of water. Recover, bring to a boil, and let it simmer for another five minutes on medium low heat. When done add salt & pepper if needed. Then add the red bell pepper, stir and cover. Let it set for five minutes before serving. Serve with rice. Enjoy!
Note:
Do not cook the liver more than 15 minutes total. Over cooking the liver will make it tough and chewy.