A couple of weeks ago, I was invited by food blogger Joanne Boston, an editor for
Project Adobo
, to participate and add my recipe for adobo to a collection of those from around the country. Since I love the dish myself, (who wouldn't) I have gladly accepted the invitation and take pleasure in sharing my version. Adobo is well loved and known to Filipinos' due to its variety and versatility. Adobo can be cooked with pork, seafood, beef, vegetables, and of course the most popular one, chicken adobo.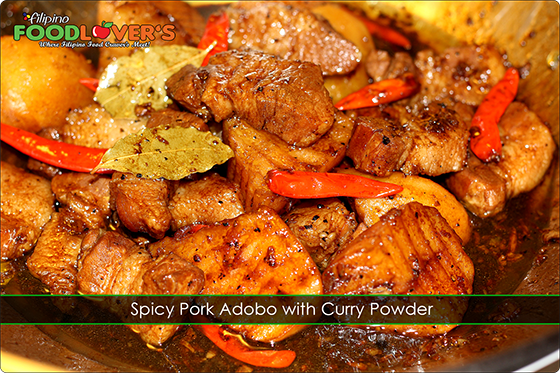 For people who know me personally, they will also know that I love spicy food; so, with that being said I am incorporating my love of spicy food to this classic Filipino dish. Think of this as the Adobo with attitude. Why, you may ask? Well, this dish will definitely stand out in the crowd due to one specific ingredient. Aside from the blistering hot Thai peppers, this Adobo has a hint of Hot Madras Curry Powder. Most Pinoy's like curry, so why not combine it with Adobo and have the best of both worlds. We can enjoy the distinct taste of Curry powder and the classic taste of the most well known dishes in the Philippines. So, I will not prolong this any longer and will now share with you the recipe for this dish.
The key to making this dish sing is to cook it until all the sauce is nearly dry,
so keep that in mind!
Ingredients:
1 lb. Pork belly - can be substituted with chicken or beef
12 Thai peppers
2 Medium sized potatoes - quartered
4 Cloves of garlic – peeled and smashed
4 Bay leaves
¼ Tsp. Hot Madras powder (curry powder)
3 Tbs. White sugar
¼ Tsp. Whole peppercorns
½ Tsp. Ground black pepper
¼ Cup soy sauce
¼ Cup Vinegar
1 ½ Cups Water
Instructions:
Mix all the ingredients except the potatoes in the pot or pan.
Cover and let it simmer for 10 minutes.
After that, add the potatoes and let it cook for 8 minutes or until tender.
After potatoes are tender, remove them from the pot, set aside, and continue to cook the pork belly until all sauce is nearly absorbed.
Add the potatoes back in and mix until all the ingredients are well incorporated.
That's it you're done. Top Adobo over hot white steamed rice. Enjoy!
Note:
This dish is easy to cook. However, it does need a careful approach as not to cook it too soon and end up burning it. Good luck to you!