Pancit Canton is a dish you will often see on just about any special occasion in the Philippines; however if these noodles are not cooked correctly, they can get a distinct soapy taste that most people don't appreciate. That's why this dish is often time the second choice of noodle lovers in the Philippines. I played around with this dish, and I finally figured out how I can cook it confidently without the fear of it tasting soapy.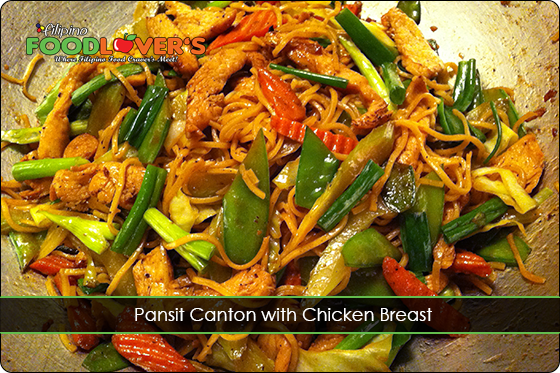 On top of that, I add a few more vegetables to the ingredient list to make it more colorful and appealing to our eyes. As you can see, the pictures look delicious and very colorful. I apologize for not having as many pictures on this post. The dish was not originally planned to go on my blog, but since I like it a lot I am going to share the recipe with you now and add more pictures later. So, let's cook this already, shall we?
 Ingredients:
1 8oz. pack Excellent brand Pancit Canton
1 skinless boneless chicken breast, sliced thinly - see picture
1 cup peeled and deveined shrimps - optional
3 sticks of Celery, chopped thinly and diagonally
½ cup Sitsaro (snow peas), sliced diagonally
½ cup chopped carrots
½ cup chopped green onions (scallions)
3 cloves garlic, peeled and smashed
6 tbs. Cooking oil
2 tbs. Soy sauce
1 tsp. MSG - optional
1 tbs. Oyster sauce
1 tbs. Sesame oil
Instructions:
For the chicken breast:
Marinate sliced chicken breast with 2 tbs. soy sauce, ½ tsp. msg, and ground black pepper
Set aside and let it marinate for 15 minutes.
The cooking process:
Heat 4 quarts water with 3 tbs. cooking oil and blanch Pancit Canton noodles for one minute, drain, and set aside.
Heat 3 tbs. cooking oil in a large pan and cook garlic until golden brown.
Add marinated chicken breast and let it cook for 2 minutes.
Add shrimps and allow them to cook for one minute. (this part is optional, skip this process if you're not using shrimp).
Add carrots and let it cook for 2 minutes.
Add Sitsaro and let it cook for one minute, then add Canton noodles, Oyster sauce, and Celery. Stir it well until all the ingredients are well incorporated. This is the part you must constantly mix; otherwise you will scorch the noodles.
Allow it to cook for three minutes and then add the scallions; again, you must continuously stir the Pansit.
Remov the Pancit from heat. Serve with white steamed rice or by itself. Enjoy!