Paksiw is undoubtedly the next best dish to Adobo since the dish is versatile and adaptable much the same as Adobo is. Paksiw is also very popular in the Philippines since it has the longest shelf life of any other dish due to its main ingredient, the vinegar.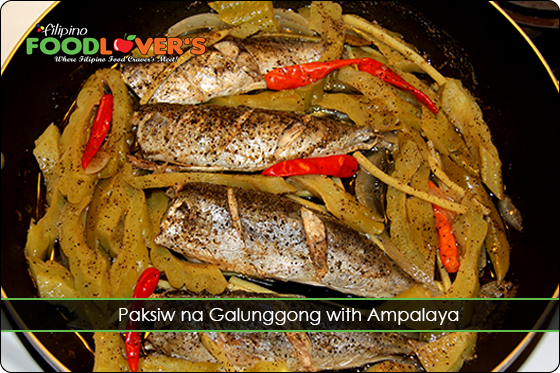 The most common way of preserving food in the Philippines, especially when it comes to fish, is by coating it heavily with salt and dries it using the sunlight. Using this method, we are able to preserve fish for as long as a whole year without the worry that it will go bad. And, when it comes to cooking fresh fish, vinegar is the best thing to use as a preservative since the food can be left out for up to three days and still be safe to eat. Back to the recipe: Paksiw is quick and easy to cook since it has a small list of ingredients and can be fed to a whole family without breaking the bank; perfect for many families in the Philippines who are on a tight budget. In this version of Paksiw, I am using Galunggong fish (round shad) and Ampalaya (bitter melon or bitter gourd) as a compliment for the fish. Other than that, there isn't really anything special about the dish, aside from the fact that I made it extra spicy. Well, I say let's get cooking then.
Ingredients:
4 pcs. Regular sized Galunggong (round shad), with or without head
1 large size Ampalaya, seeded and chopped diagonally
12 pcs. Red Thai pepper, stems removed
3 green Finger peppers
½ small onion, sliced thinly
¼ cup green onions, chopped into 2 inch length - optional
¼ cup Ginger, julienned
1 tsp. ground black pepper
3 pcs. Bay leaf
½ cup Datu-Puti brand vinegar or equivalent
½ cup water, for diluting the vinegar
½ tsp. MSG – optional
3 tsp. cooking oil
Instructions:
In a large pan, arrange the Galunggong, Ampalaya, Ginger, Onions, Green Onions, Thai peppers, and green Finger peppers.
Pour the water and vinegar evenly.
Then pour the cooking oil also evenly, covering the fish and the rest of the ingredients.
Add Bay leaf. Then season it with salt, pepper, and msg.
Cover and bring to a boil, lower the heat to medium low, and allow it to simmer for 15 minutes.
Serve Paksiw na Galunggong with white steamed rice. Enjoy!