Paksiw na Isda is an ideal dish for my family back in the days in the Philippines. This simple dish is not only delicious it also does not required refrigeration and not having have a refrigerator back then this dish was often found in out dining table since it can set for a couple of days without any worry that it will go bad.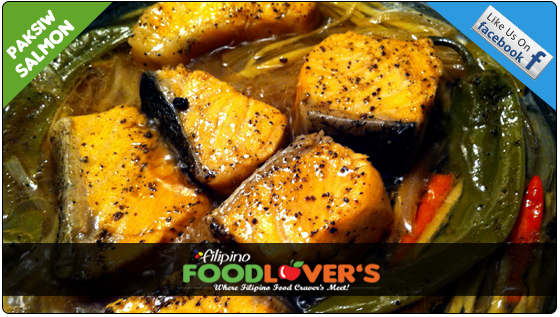 There are several version of this dish just like most food out there, however there is a simple rule that should not be broken in order to have a tasty and satisfying outcome of cooking Paksiw. There is two key ingredient of Paksiw that should not be mix and that's garlic and ginger because If you mix both of them your Paksiw will not taste right or it will taste nasty.
I know there are a lot of recipes on the Internet that calls for both, but see for yourself cook it with both garlic and ginger and try my version and chances are you'll like mine way better. As far as the main ingredient the choices are almost endless, but for this recipe I used Salmon Steaks and sliced it into smaller pieces. Paksiw is quick and easy to make and it will satisfy the taste buds of your entire family and if you have leave over rest assured that it will taste just as good the next time you serve it to your family.
Ingredients:
    1Lb. Salmon Steaks cut into smaller pieces (see picture)
    3 Green finger peppers
    1 Medium ginger peeled and slice into match sticks
    3 Bunches of green onions cut into 1 inch pieces
    5 Thai peppers (siling labuyo)
    2 Bay leaf (laurel leaves)
    ½ Cup vinegar (Datu Puti brand)
    ½ Cup Water
    2 Tbsp. Soy sauce
    3 Tsp. Corn oil or Veggie oil is fine
    1Tsp. Freshly ground black pepper
    Salt to taste
Instructions:
Rinse salmon steaks and remove bones
Drizzle cooking pot with 1 Tbsp. corn oil then place the salmon in the cooking pot
After that you can go ahead arrange all the ingredients (gingers, green onions, thai peppers, green finger peppers, and bay leaf) on the side of the salmon steaks then add the rest of the ingredients.
Then drizzle the whole thing with the remaining 2 Tbsp. cooking oil and add your freshly ground black pepper.
Cover pot and let it cook on medium heat for 10 minutes and adjust the taste by adding salt and more pepper if needed that's it your done.
Serve your paksiw with white steamed rice and enjoy your meal.