T
his is my entry for Lasang Pinoy 20. Although this cooking process is inspired by an English chef, it is still a traditional Filipino dish. For those of you who watch the Food Network or Fine Living channels here in the U.S. I'm sure you have heard of the show Naked Chef by Jaime Oliver. I was watching one of his cooking shows at one time and he made a grilled dish on the beach. It was a Salmon wrapped in several sheets of wet newspaper. The newspaper idea was so the fish would not get burnt and would keep it moist throughout the cooking process.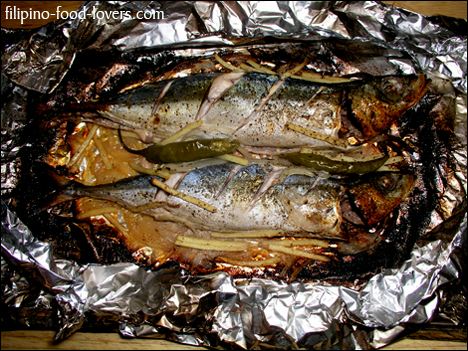 That's where the newspaper idea comes from. The other twist is on one of the most common ways of cooking fish in the Philippines, Paksiw, except this version is grilled with the common ingredients found in Paksiw na isda. The newspaper will keep the fish moist and from burning and I am also using aluminum foil that will seal in the rich sour flavor that you would expect from this well-known dish. Now let's get down to the recipe and cooking process.
Ingredients:
2 Large Galunggong fish 1 Large piece of ginger root Julienned 1 Small onion sliced thinly 1 Finger Pepper cut in half 3 Cloves of garlic peeled and smashed 2 Tbs. Corn oil ½ Tsp. MSG ½ Tsp. Ground black pepper ½ Tsp. Salt 4 Tbs. White vinegar 10 Pages of newspaper Aluminum foil
Directions:
Heat grill prior to cooking. Make two large sheets of aluminum (double sheet each) foil and place fish inside. Season it with vinegar, salt, msg, oil, ground black pepper, and top it with ginger root, onions, finger pepper, and garlic. Wrap and seal the aluminum foil. Soak newspaper in water until it is totally wet and then wrap it around the aluminum foil containing the fish. Place directly over the heat and let it cook for 50 minutes turning it halfway through. Remove the fish from the wrapping and place on a serving plate. Serve with white steamed rice.
Adjustments:
After cooking this dish the first time the result is very satisfying, but there were a couple of set backs that need to be addressed. First I forgot to put one of the key ingredients in it, the garlic. I was trying to prepare this dish and make a bottle for my youngest son. Needless to say it didn't go so well. Another thing is that it needs more newspaper, about 20 pages. You also have to soak it really good in water and keep an eye on it while cooking to make sure the newspaper doesn't get burned all the way through. This will defeat the purpose. Cut the cooking time to 25 minutes instead of 50 minutes, which was what I had originally done. And for a final adjustment, poke a few small holes on top of the aluminum foil for the steam to escape. I didn't do this the first time so mine expanded like a big balloon wrapped in newspaper.
Final Conclusion:
This dish is truly flavorful and very delicious despite my set backs. Mine still came out very tasty and moist. I would strongly recommend to cook it this way when your camping. Prepare like I discussed above and just set the whole thing on top of hot coals and give it about 25 minutes and you'll have a mouth watering dish. You can use a wide variety of fish for this dish including salmon. (If you do use salmon, I would use lemon instead of vinegar.) So that's it. You can use your imagination as far as the ingredients go. Just cook safely and enjoy your grilled fish wrapped in aluminum foil and newspaper.
Tip1:
Spray Pam on the aluminum foil to prevent the fish from sticking to it.
Tip 2:
Keep the newspaper wet throughout the whole cooking process. This will prevent drying and burning the fish.
Tip 3:
Poke a few tiny holes on top of the aluminum foil allowing the steam to escape to prevent the foil from blowing up like a balloon.