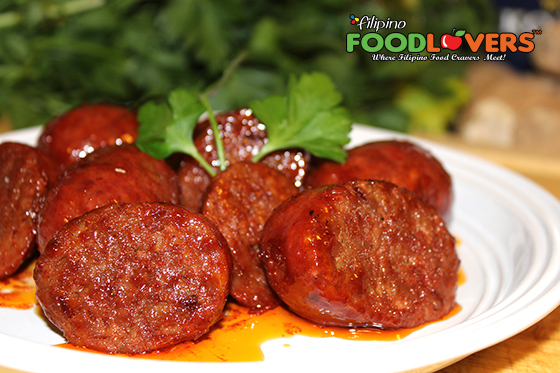 Longanisa, does this word sounds familiar to you? No? Okay, then let me tell you what it is then. Longanisa sausage is the Filipino version of the Hispanic Longaniza. Although the original sausage is dry and ready to be eaten the way it is; Filipino longanisa is a bit different than the Hispanic version. The meat is cured but still raw and needs to be cooked before consuming it. Longanisa is a very popular food in the Philippines especially during breakfast time. The flavor of these sausages are heavily influenced by the different regions, so you can easily tell which place or region Longanisa is made from since each one has their own signature taste and flavoring. My version of Longanisa is the sweet kind and has more of a resemblance to hamonado. Here in the Midwest, we have a few international groceries stores that sell Longanisa, but I find their prices to be a bit expensive. So, this is why I did my research so I could make these little delights for half the cost and the best part is, I know exactly what is going in to my Longanisa. I know, I know, most of you are thinking it doesn't taste the same… Well – hold off on the skepticism and try my version. You'll be surprised at how good it is and the best part is you don't have those questionable ingredients such as, prague powder, sodium phosphate, isolate, and carrageenan. I am not saying these ingredients are bad for you, but I dislike using anything that I am not familiar with. My Longanisa is cased in hog sausage casing which you can buy at just about any supermarket or butcher shop very cheaply. And don't worry, you can make these Longanisa without investing in a sausage stuffer with things you probably already have in your kitchen.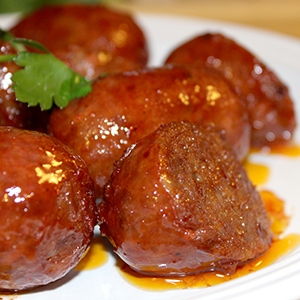 Longanisa
2015-06-01 15:06:08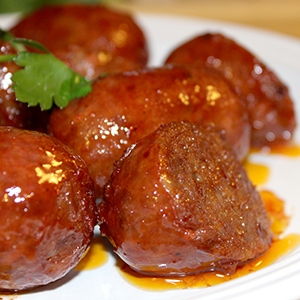 Serves 4
How to make Filipino Longanisa with a do-it-yourself sausage stuffer
Ingredients
2 Tablespoons soy sauce
3 Tablespoons vinegar
2 Tbs Shao xing wine
¾ cup brown sugar
½ Tablespoon salt
2 Pounds coarsely ground pork
2 Head of garlic, peeled and minced
2 Teaspoons ground white pepper
2 Tbs paprika
2 Tbs crushed pepper flakes (optional)
1 Tsp red food dye (optional)
Hog casing
1 cup water
2 tablespoons oil
Instructions
In a bowl, combine soy sauce, vinegar, shao xing wine, sugar, and salt. Stir until sugar and salt are dissolved. In a large bowl, combine ground pork, pork fat, garlic, pepper, and paprika. Add the liquid mixture and mix gently until combined. Refrigerate for about 2 hours to allow flavors to meld and to firm up meat mixture.
In a bowl, soak casings in warm water for about 30 minutes. Drain well. In the sink, run warm water through casings. Check for spots with leaks and cut these sections.
On one end of the casing, insert the nozzle of a funnel. Scoop pork mixture into funnel and gently pack into casings, leaving about 5-inches on both ends. Do not over stuff casings. Tie off one end into a double knot. Alternatively, you can tie with fine kitchen twine.
To make individual sausage links, pinch sausage at intervals of about 4 inches. Gently twist the sausage link at this "pinched" point in one complete rotation. Repeat this process all the way down the coil but alternating the direction of twisting (towards you and away from you) from one link to the next. Tie off the other end into a double knot or with kitchen twine. Place in a Ziploc bag and refrigerate overnight.
When ready to cook, cut sausage into individual links.
With a knife, prick each sausage once or twice. In a pan over medium heat, combine links and water. Bring to boil. Lower heat, cover and continue to cook until meat is cooked through and liquid is almost absorbed. Add oil and continue to cook, stirring regularly, until sausages are caramelized.
Remove from pan and serve hot.
Filipino Food Lovers http://www.filipino-food-lovers.com/