Ginisang Sayote with ground pork is a simple, easy, and healthy dish, using only a few ingredients and you and your family can have a very satisfying meal. Sayote or/ Chayote is a member of the squash, melon, and cucurbit family. It can be found in tropical climate countries around the world. Chayote is somewhat of an under rated fruit in the Philippines since it has a bland taste if it's eaten the way it is, but to some people such as myself it is looked at as a culinary gem and one of the most versatile vegetables (fruit) in the produce market.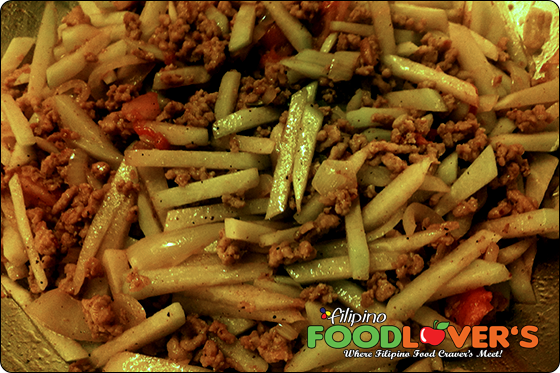 Chayote can be used in many Filipino dishes and it is very compatible in a wide range of dishes. We use Chayote for stir-fry using various combinations as well as for a key ingredient in other dishes such as Chicken Tinolas, Mung Bean Soup (Ginisang monggo), and Coconut based dishes. You may also stir-fry it using the Chinese approach of combining Chayote (sayote), Beans sprouts (togue), Tofu (tokwa), and skinless/boneless chicken breast. Okay, enough said, let's cook this darn thing already...
Ingredients:
    2 medium sized Chayote peeled, and thinly sliced
    1 Lb. Ground pork (Giniling na baboy)
    1 medium onion, thinly sliced
    1 medium tomato, thinly sliced
    3 Garlic cloves, smashed
    2. Tbs. Cooking oil (I prefer using corn oil)
    1 Tbs. Soy sauce
    1 Tbs. Patis (fish sauce)
    1 Tsp. Ground black pepper
    1 Tsp. Paprika for color
    1 Tsp. MSG – Optional
Instructions:
Using a potato peeler, peel both Chayote's, cut them in quarters, remove the pit, and slice them thinly (refer to the picture below). Slice onions, tomatoes, and peel and smash the garlic cloves.
Pre heat wok or frying pan and then brown the ground pork until it is cooked.
When the pork is cooked, add two tbs. of cooking oil. Then push the ground pork to one side of the wok, add smashed garlic, and let it cook until golden brown before adding the onions.
When the onion hits the shiny stage, go ahead and add the tomatoes. Let it cook over medium high heat for 2 minutes or until tomatoes are tender.
Add the soy sauce and let it simmer for another two minutes and then season it with black pepper and MSG (optional).
Add the thinly sliced Chayote, mix it well, replace cover, and let it cook over medium heat for 2 minutes.
After two minutes season it with one tbs. of patis, (fish sauce) mix well, then replace the cover and let it cook for an additional two minutes.
At this time, you can go ahead and add one teaspoon of paprika and adjust the taste by adding salt and pepper according to your tastes. Mix well making sure all the ingredients are well incorporated.
Remove from heat, serve it over rice, and use some fish sauce for condiments. Congratulations, and enjoy your Ginisang Sayote (Stir-fried Chayote).