After being here in the U.S. for so long now there are a lot of things that I have forgotten from my time in the Philippines and believe it or not blogging has brought back a lot of good memories from when I was in our native land. As I explore my thoughts on what to post next it also gives me a chance to access memories that have been buried through time.
When my mom would cook this dish she usually used Kangkong, (water-spinach) but I have also seen her use Pechay (bok-choi) before.

The only thing about where I live now is that all they have available nearby is the Big Bok-choi which is not as good as the one we are used to eating in the Philippines the baby bok-choi.

Using the American bok-choi is fine, but you will have to cut the bottom of the stalk as it tends to be tough and bitter. I can get the baby bok-choi, but I have to send my wife to the International store which is not close to where we live.
Having said that I have to use the one that is readily available at our local market. Now let's get busy!
Ingredients:
2 Cans of Sardines (Ligo brand if available)
1 Bunch of American Bok-choi
1 Small onion sliced crosswise
1 Small tomato diced
3 Cloves of garlic peeled and smashed
3 Tbs. Soy sauce (Silver-Swan)
½ Tsp. Ground black pepper
½ Tsp. MSG (vetsin) optional
2 Tbs. Corn oil
1 Cup of water
Directions:
Prep the Bok-choi / Pechay:
Start by preparing the bok-choi by removing all the stalks and rinsing them thoroughly.
Next cut off about two inches from the bottom to remove the tough part and then separate the leafy part by cutting the stalk off from the leafy part (see pictures).
Slice them separately.
Chop the stalk part first and then proceed to the leafy part, but do not mix them together.
The stalk does require a longer time than the leafy part to cook therefore you should cook the stalks first and then add the leafy part later.
That's why I said you shouldn't mix them at this point.
The cooking process:
In a large saute pan, heat oil. Next saute garlic until golden brown, add the tomatoes and onions, and let it cook until onions hit the shiny stage.
Then add the bok-choi stalks and let them cook for 2 minutes.
Now add the bok-choi leafy part along with the sardines, soy sauce, water, msg, and black pepper.
Cover and let it cook for 3 minutes or until the bok-choi is tender.
Adjust taste by adding salt and pepper if needed.
Serve rice topped with Ginisang Sardinas. Enjoy!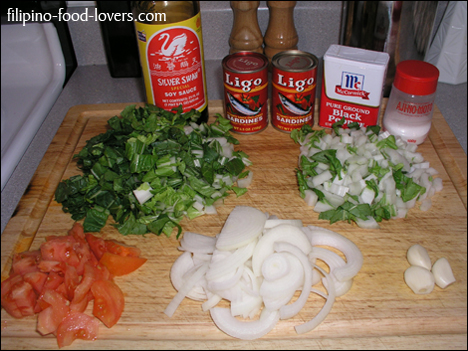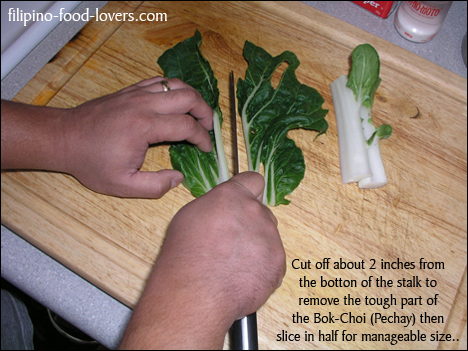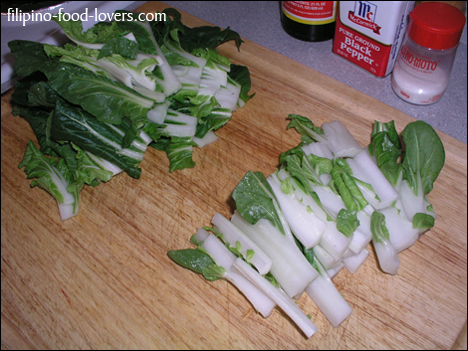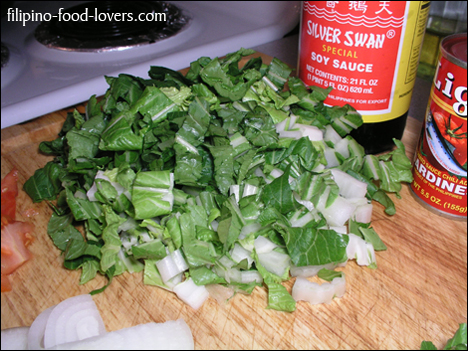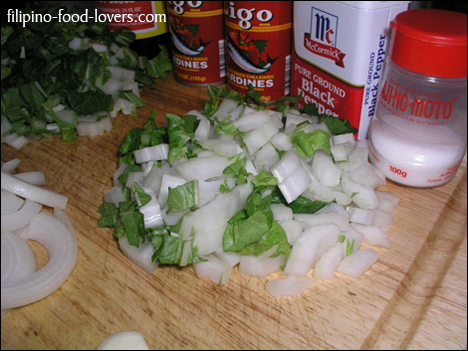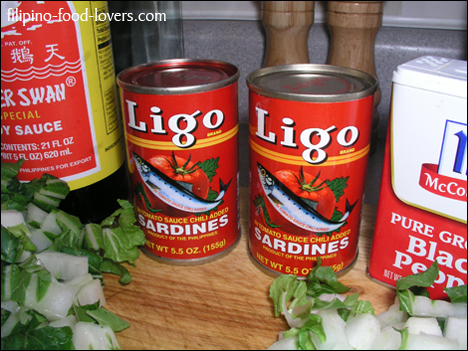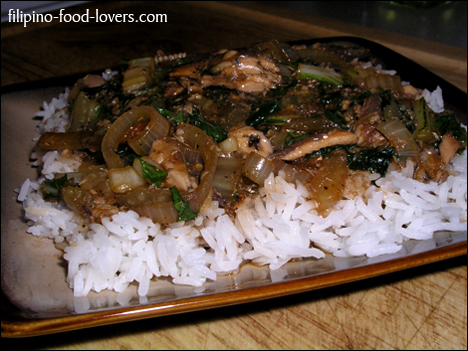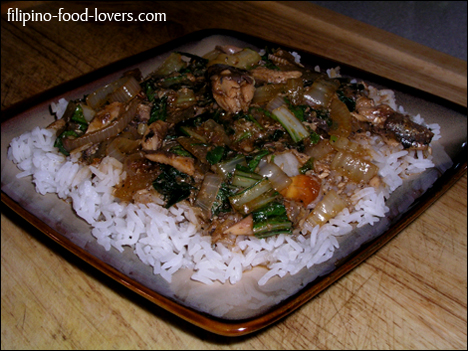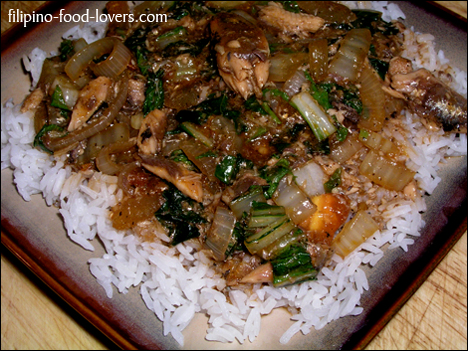 My family didn't have much money when I was growing up and my mom would have to cook what suited our budget and sure enough, due to lack of money, Ginisang Sardinas does come up on our menu quite often. Even though it was my favorite back then, I got so tired of eating it that I would rather skip a meal than have it again. But now after not having this dish for a while I can honestly tell you I would trade a big juicy steak for this stuff. That's why I decided to post this dish on my blog, to share this recipe for those who crave for this dish. Luckily I still have a couple of cans of Ligo brand sardines, which is plenty for this recipe.