This dish, Ginisang Pechay, takes me back to memory lane during my young age in the Philippines. I guess the main reason is that I was a picky eater when I was a boy and just like most kids eating vegetables was not my top priority.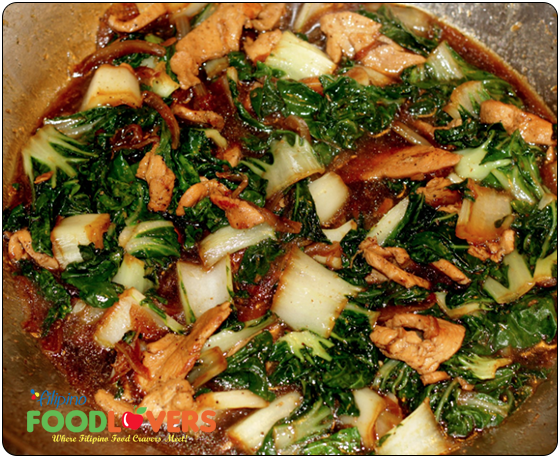 However, as far as I can remember I didn't dislike all vegetables; I did like a few of them and Pechay (bok-choy) was definitely at the top of my list along with Kangkong (water spinach), Baguio Beans (green beans), and Sigarilyas (winged beans). Pechay can be found in just about every corner in the wet market in the Philippines; not to mention they are cheap and since we didn't have a lot of money, it was often a top contender when it came to dinnertime. My mom would cook Ginisang Pechay just about on a weekly basis and the way she cooked it was pretty simple. That's exactly how we are going to cook this dish quick, simple, and easy. So, let's go and get to cooking.
Ingredients:
2 lbs. Pechay – See below for cutting instructions
1 Lb. of Chicken breast – Skinless, boneless, and sliced into thin strips
1 Medium size tomato – Cut into small pieces
3 Cloves of garlic – Peeled and smashed
1 Small onion – Sliced thinly
2 Tbs. Soy sauce
1 Tsp. Ground black pepper
½ Cup of water
3 Tbs. Cooking oil
Cooking Process:
Heat oil in a cooking pan, add garlic, and cook it until golden brown.
Add onions, sauté until shiny stage.
Add tomatoes, stir, cover, and let it simmer for two-minutes.
Add chicken, stir, and allow it to cook for 10 minutes.
Add soy sauce and ground black pepper, stir well, and let it simmer uncovered for a minute.
Add Pechay, stir it well, cover the pan, and let it cook for one minute.
Add ½ cup water, replace cover, and let it cook for another minute.
At this stage you may adjust the taste by adding more soy sauce or salt and pepper if needed.
That's it you're done.
Serve with white steamed rice and enjoy you're ginisang pechay.
Cooking Tips:
Separate Pechay stem and leaves and during cooking process, cook stem first for a minute before adding the leafy part (see picture below).