Ginisang Monggo or Mung Beans Soup is a dish known to the Filipino's as a poor mans dish, but from what I can tell you there is nothing poor about it. It is rich and hearty in flavor and just to kick it up another notch (as Emeril Lagasi would say) you can add shredded smoked fish and some shrimp and you will surely have a killer dish. Serve it with freshly smoked Tinapa and steamed white rice and your family will have a wonderful meal together.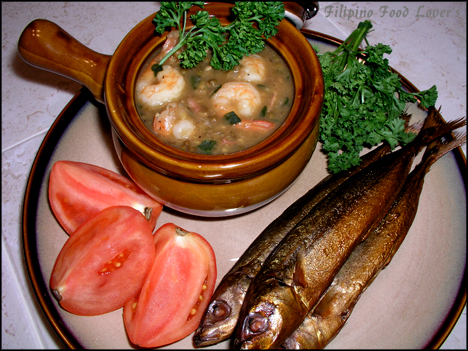 Ingredients:
1 Cup of monggo beans (mung beans) ½ Cup of malunggay leaves 8 Cups of water 3 Tbs. Cooking oil 3 Tbs. Soy sauce 3 Cloves of garlic - smashed 1 Small onion - sliced thinly 1 Small tomato - diced 1 Tsp. MSG ½ Tsp. ground black pepper Pinch of salt to taste ¼ Lb. Pork belly cut into small pieces ¼ Lb. Shrimp peeled and deveined 2 Pieces medium sized Tinapa (shredded)
Directions:
Rinse monggo beans thoroughly, place in a casserole dish, and boil in 8 cups of water on medium low heat for about 45 minutes. Remove the beans and set aside. In the same casserole dish add oil and saute garlic until golden brown. Next add the onions and cook them until they hit the shiny stage. Add pork belly, soy sauce, and tomatoes. Cover and let it cook for 3 minutes. Then you can add the shrimp and let it cook for another 2 minutes. Add the monggo beans and malunggay leaves (horseradish leaves) along with the shredded Tinapa, ground black pepper, salt, and msg. Cover it and let it simmer for an additional 15 minutes on medium low heat. Stir it every 5 minutes to avoid scorching. Taste it and add salt and pepper if needed. Serve with rice and Tinapa and enjoy your meal.