Ginisang Ampalaya is bitter and yet very delicious when properly prepared. You can also enjoy its many health benefits. I remember when I was a little boy I used to hate this dish due to its strong bitter taste and now whenever I see an ampalaya on a produce shelf my mouth starts to water.
Ingredients:
3 Medium sized Ampalaya
1 Lb. of pork belly cut in 1 in. cubes
½ Lb. of Shrimp, peeled and deveined (optional)
2 Tbs. Bagoong alamang (fermented shrimp pasted)
2 Tbs. Soy sauce
1 Tsp. MSG, vetsin - optional
1 Small Onion, sliced crosswise
1 Small tomato, diced
3 Cloves of garlic, peeled and smashed
3 Tbs. Corn oil for stir-frying
Directions:
For Ampalaya - Bitter Melon or Bitter Gourd
Prepare Ampalaya by cutting it in half lengthwise and removing the seeds.
Make sure you scrape the white stuff off also.
Slice it ¼ of an inch thick diagonally and place in a bowl large enough to fit all of it.
Next smother it with plenty of salt and add water just above the ampalaya and let it soak for 20 minutes.
After soaking rinse it thoroughly and make sure all the salt has been rinsed off.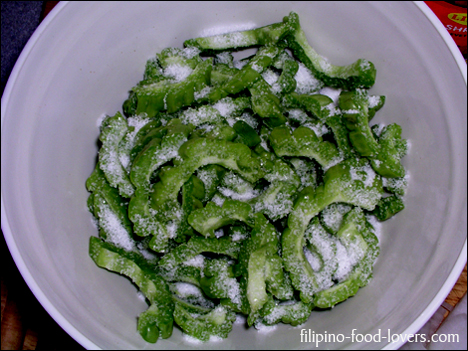 In a wok heat oil and add garlic.
Cook until golden brown and then add the pork.
Let it cook for 3 minutes without stirring.
Next add the tomatoes, onions, and bagoong alamang.
Let it cook for 3 minutes while stirring occasionally.
Then add the soy sauce and the ampalaya stir, cover, and let simmer on medium low heat for 6 minutes while stirring occasionally.
Place the ampalaya in a serving bowl.
Cover and let it stand for 5 minutes before eating.
Serve with white rice. Enjoy!
Also try my
Ampalaya Con Carne
!
Tip 1:
Ampalaya are seldom mixed with other vegetables due to their strong bitter taste, although this can be moderated to some extent by salting and then washing the cut Ampalaya before use.
Tip 2:
After cooking let it sit for at least 5 minutes before serving. This will also help tame the bitter taste while giving the flavor time to blend in.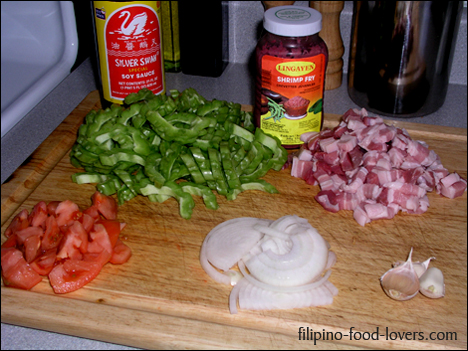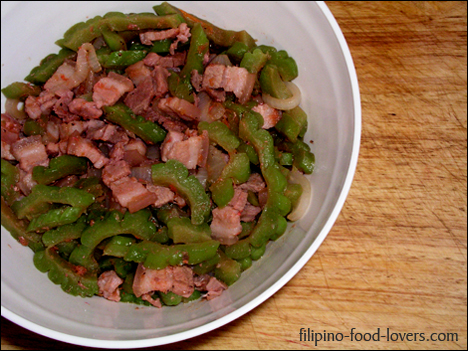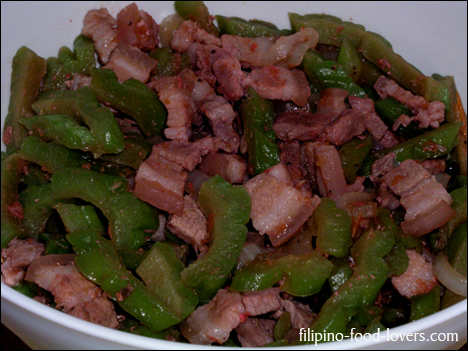 Ginisang Ampalaya does require some preparation before cooking to tame down the bitterness, but once you do it is truly mouth-watering.