Ginataang Alimasag (crab legs in coconut milk) is the one dish that could keep a whole family at the dinner table for a little while. Why do I say that? Well, before you can eat this stuff, you have to crack the legs and the clamps and by doing that it slows the eating process.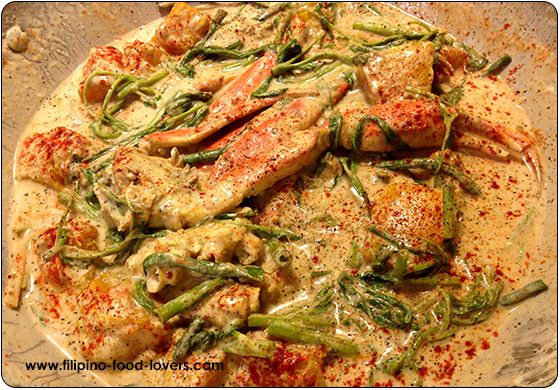 However, that is a small price to pay for this delicious dish. The preferred way of cooking crab legs here where I live is simply steaming them. We also do this in the Philippines, but if you really want to taste its full potential, adding coconut milk and a few other things to your ingredients list can make a whole world of difference. My wife is a good example for this; she was a bit skeptical when I introduced this recipe to her, but after she tasted it, she won't even eat regular steamed crab legs anymore. Flavor is what we're talking about here, lots of it. Okay, let do it!
Ingredients:
2 lbs. Snow Crab legs – Blue Crabs are perfectly fine too!
2 - 13.5 (400mL.) oz. Cans of Coconut milk
1 Cup sitaw (string beans) – cut into two inch pieces
3 Cups kangkong (water spinach) – stems and leafy part separated
6 Cloves of garlic – peeled and smashed
1 Large onion – thinly sliced
¼ Cup ginger – peeled and julienned or thinly sliced
4 Finger peppers (Siling mahaba)
1 Teaspoon ground black pepper
1 Teaspoon paprika – don't omit this
1 Tablespoon patis (fish sauce)
1 Teaspoon MSG – optional
3 Tablespoon cooking oil – I used canola oil
Cooking Process:
Prepare the snow crabs or blue crabs by rinsing them thoroughly. Whether they're fresh or frozen, "rinse then thoroughly".
Heat 3 tablespoons cooking oil in a wok or a large pot (a very large one).
Add garlic and let it cook until golden brown.
Add onions and let it cook until it hits the shiny stage.
Add ginger and allow it to cook for 1 minute.
Add the crabs and place them where they are spaced evenly.
Add coconut milk and spoon some over the crabs covering them thoroughly.
Add black pepper, cover it, bring to a boil, and let it simmer over medium heat for 5 minutes.
After five minutes add patis (fish sauce) and agitate the pot carefully, you must do this frequently in order to avoid scorching the coconut milk.
After agitating pot re-place the cover and allow to cook for another five minutes.
After that you may go ahead and add the sitaw. (string beans) Make sure they are submerged in coconut milk, then allow it to cook for 4 minutes.
After four minutes add kangkong in the same manner you added the sitaw and allow it to cook for 2 minutes.
 Adjust the taste by adding more patis or salt and black pepper if needed.
Just before serving, sprinkle the paprika over the crabs to give it color.
Serve it with white steamed rice and enjoy your Ginataang Alimasag!