As a food blogger and a home cook, I do browse around a lot on the Internet and see other people's cooking and recipe ideas. And from time to time, I see pictures of food that looks so good that I want to try and cook it myself.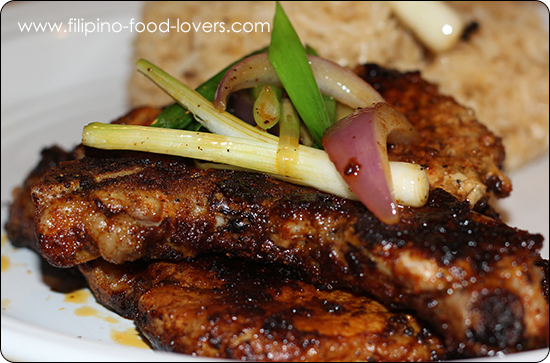 However, when I look at the recipe, I completely dislike it and when that happens I usually come up with my own version. Well, that's exactly what happened to this recipe. I love pork chops and curry powder, and I thought combining it together would be a sure winner, the Curried Pork Chops. Also, I am pairing this pork chop recipe with a classic Filipino dish, Garlic Fried Rice. Well, this version has been kicked up a notch or two to make it even better. So, since we are seasoning the surface of the meat in this recipe, giving it an exact measurement wouldn't be necessary. The only measurement available is for the garlic-fried rice and toppings for the pork chops. Okay, let's do it.
Ingredients:
For the Pork Chops:
4 Pork chops – You can add as many as you want
Curry powder
Garlic powder
Cayenne pepper
Salt & Pepper
For the Pork Chop Toppings:
Smoked paprika
6 Pieces of green onions
Small piece of red onions – sliced diagonally
Small piece of ginger root – julienned
For the Garlic Fried Rice:
4 Cups of white steamed rice
2 Cloves of garlic - peeled and smashed
¼ Teaspoon curry powder
¼ Teaspoon smoked paprika
¼ Teaspoon cayenne pepper
2 Tablespoons cooking oil
Salt & Pepper
Cooking Process:
For the Pork Chops:
Coat pork chops with cooking oil.
Then sprinkle all powdered seasonings sparingly on the surface of the pork chops (don't put too much). Set aside.
For the Garlic Fried Rice:
Start by making sure the rice is broken up before starting the cooking process.
Heat oil over medium heat and sauté garlic until golden brown.
Add broken up rice and stir it well making sure the rice is well coated with cooking oil.
Season by adding curry powder, smoked paprika, cayenne pepper, and stir until all ingredients are well incorporated.
Add salt & black pepper for final seasonings. Adjust taste according to your liking. Set aside.
For the Pork Chops:
Over medium heat sear pork chops in a cooking pan.
Lower the heat and continue to cook until pork chops are done (approx. 5-6 minutes each side).
For the Pork Chop Toppings:
It is best to use the same cooking oil or drippings left from the pork chops to cook the toppings.
Heat frying pan or wok with excess oil from the pork chops.
Add ginger, red onions, green onions, and stir it constantly for about a minute. Then top the pork chops with it.
Plate it and serve pork chops with garlic-fried rice. Enjoy!