Chicken Stir-fry is delicious, quick and easy to cook, and is perfect for a busy schedule as most people have here in America. A few ingredients and high heat can bring a healthy and satisfying meal for the whole family. The key to successful stir-frying is the sauce, so choosing it is crucial.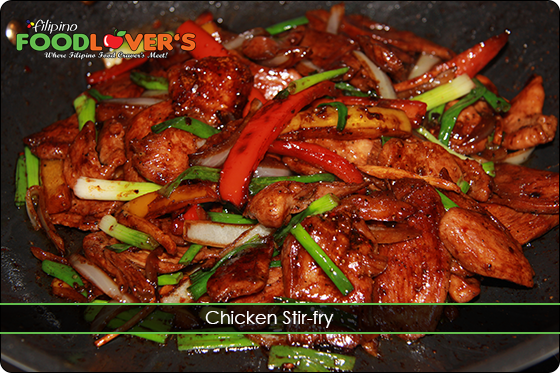 You want a sauce that'll explore every corner of your taste palate, and to do this you need to achieve a balanced mixture of sourness, bitterness, sweetness, saltiness, and the fifth one Umami. Thankfully, all of these are available in a bottle of Oyster sauce. This makes the Oyster sauce the key ingredient and to give it a hint of nutty taste, you'll need the second key ingredient which is the sesame oil. Good luck and enjoy your chicken stir-fry!
Ingredients
 2 Skinless/boneless chicken breasts sliced thinly
1/2 each of Red, Yellow, Orange bell peppers seeded and sliced (half of each color)
1/2 white onion sliced thinly
1 Whole bundle scallions, cut into 1 1/2 inch pieces (use the white part too)
1 Tbs Ginger, cut into match stick pieces
3 Tbs. Oyster sauce
1 Tbs. Sesame oil
4 Tbs. Corn/Peanut oil, or any high smoke point cooking oil
1 Tbs. Red pepper flakes
Cooking Procedure
Marinate chicken breast with 3 tbs dark soy sauce, 1 tbs white sugar, and 1 tsp ground black pepper for 1/2 an hour.
Brown and cook chicken thoroughly in three batches using 1 tbs. of cooking oil per batch and then set aside.
Heat the remaining cooking oil and stir-fry ginger for half a minute, then add the bell peppers on high heat until bell peppers blister lightly.
Add red onions and let cook for a minute while stirring constantly.
Add chicken, stir for one minute, then add oyster sauce, sesame oil, and stir for another minute.
Adjust the taste by adding salt & pepper if needed.
Add green onions and stir for another minute and you should be done.
Don't overcook the veggies and serve stir-fry over white steamed rice. Enjoy!