Filipinos have adopted dishes from all over the world, but most of our cooking is influenced by the Spaniards and Asian cuisine. There are several versions of Chicken Curry; the most popular ones are the Indian version which mostly uses powdered curry and the Thai version which uses curry paste.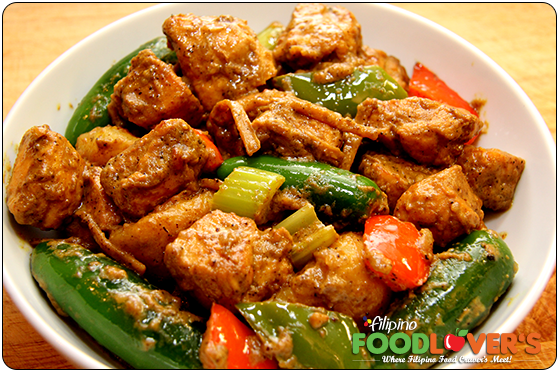 I am not sure about the Indian style, but I took a class in Thai Culture at Webster University and my instructor who was from Thailand showed us how they made Curry dishes in Thailand. It was a very tedious process, but very rewarding at the end. I remember we actually cooked for the crowd at Webster University's International Festival and I must say, it was quite an experience. I was not expecting that we were going to have such a huge turn out. I cooked enough green curry with beef for 200 students. I'm not really sure if we satisfied the students, but at that time my main concern was keeping up with the crowd. 
Click here for that recipe
With this version of Chicken Curry, we are not going to do it the Thai way, but Filipino style. We are going to combine powdered curry and coconut creme to give this dish a rich, creamy, and very spicy flavor that you would expect from this awesome curry dish...
Ingredients:
 2 Lbs. Skinless & Boneless chicken breast cut into 2 cubes
1 Can coconut creme (14oz.)
1 Tbs. Patis (fish sauce)
1 Medium onion (diced)
1 ½ Cups of green and red bell peppers cut into bite sized pieces
1 Cup Celery cut in ¾ inch pieces
5 Jalapeno peppers (stems removed)
3 Potatoes (quartered)
¼ Cup ginger (julienned)
4 Cloves of garlic (smashed)
¼ Tsp. freshly ground peppercorns
½ Tbs. Crushed pepper flakes (optional)
4 Tbs. Cooking oil
For the Curry Powder:
½ Tsp. Cumin
½ Tsp. Caraway
½ Tbs. Whole White Peppercorns
1 Tbs. Coriander
¼ Tsp. Nutmeg (powder)
½ Tsp. Turmeric (powder)
Cooking Process:
For the curry powder
Begin by roasting all whole spices (cumin, caraway, white peppercorns, and coriander) for 1 minute on high heat.
Once they are roasted, pound them using a mortar & pestle or electric spice grinder if you have one.
Set aside.
For the chicken breast
Lightly season chicken with 5 Tbs. cooking oil and a pinch of salt & pepper.
Mix well and brown on all sides and set aside.
For the potatoes
Brown potatoes on all sides with 5 Tbs. of cooking oil. Set aside.
Cook garlic until golden brown using the remaining cooking oil you used to brown potatoes and chicken.
Add the onions when the garlic is golden brown and let them cook until soft.
Add the ginger once the onions are soft and stir it well.
Allow the ginger to cook for one minute and then add the chicken you browned earlier.
Let the chicken breast saute for one minute and season it with patis (fish sauce).
Next, add the spices you roasted and pounded earlier along with the ground Nutmeg and ground Turmeric.
Stir well for half a minute and add the coconut creme. Stir coconut creme, return the cover, and allow it to simmer for 10 minutes.
Lower your heat and stir coconut creme intermittently during the ten minutes to avoid scorching the coconut creme.
After 10 minutes add the potatoes, stir well, and let the potatoes cook for 5 minutes.
After that, add the celery and allow it to cook for 5 minutes before adding the red and green bell peppers.
When the celery is cooked, add the red and green bell peppers and again let it cook for 5 minutes.
At this stage, you can do your taste test and adjust accordingly by adding more salt and pepper if needed.
After that, you are ready for your last and final ingredient which is the 5 Jalapeno peppers.
Serve Chicken Curry with white steamed rice.
Optional:
Garnish Chicken Curry with crushed red pepper flakes.
Please watch the video and subscribe to our channel