My family loves Bistek, even my picky American wife likes it and definitely a favorite among Filipinos. The only downside of this dish is a bit pricey, so with that being said a lot of family in the Philippines cannot have this dish as often as they like.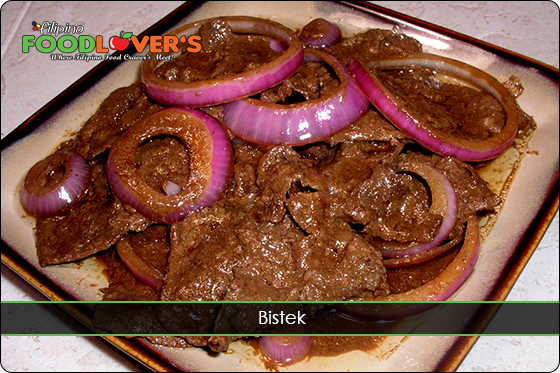 That's also the very reason when they do have this dish it is almost guaranty that they will have more one plate each meal. I have eaten this dish many times, but I liked it even more when I tasted my ex-father in-laws version. I don't have his recipe, but from what I can remember he didn't put any black pepper or garlic in it. So I made mine just like that, but I had to make a few test runs to get the measurements right. The funny thing is you can mess up this one and it still tastes
Ingredients:
2 Lbs. Round Roast (lean beef)
1 Large red onion
1 Cup of soy sauce
1 Cup of water
7 Packets of frozen calamansi or fresh ones
½ Tsp. MSG (optional)
Corn oil for frying
Cooking Process:
In a large bowl marinate beef in soy sauce, water, calamansi, and msg for an hour.
Heat frying pan and add 2 Tbs. of corn oil and fry meat in batches until they all have good sear marks on both sides.
Remove meat from the pan and set aside. Repeat the process for the next batch.
You will need to add more oil each time you fry more batches of meat.
When you are done frying, add all the meat back into the frying pan and add the remaining marinade to the pan.
Let it simmer for 5 minutes on medium heat and then add the onions and let cook for another minute.
Serve with rice and enjoy your Bistek!
Tip 1:
When buying the meat, have your butcher slice the meat no thicker than 1/8 of an inch. If you have to slice it yourself and don't have an electric meat slicer you may do so. The easiest way to do this is to partly freeze the meat. It will make it easier to slice thinly. Just make sure that you do not freeze it solid otherwise you will have to thaw it out and try to do it again.
Tip 2:
Pot roast meat is not the most tender cut of meat. Cutting the meat against the grain will make it more tender, although meat cut against the grain is not as presentable as it is when it is cut along the grain. Bistek meat is sliced very thinly so this is not going to be a big factor for this particular dish. As for myself, I cut mine along the grain. You decide which cut you prefer and let the butcher know before you have it sliced.