Adobo is a simple, classic dish and the most versatile when it comes to Philippine cuisine. In my humble opinion, you can make just about anything with this wonder dish from seafood, poultry, pork, and vegetables.
Ingredients:
1 Lb. Pork belly cut in 1 in. cubes
1½ Lb. String beans (sitaw) cut in 2 in. long pcs.
1 Medium sized onion, sliced crosswise
Soy sauce

*

Vinegar

*

3 Bay leafs
4 Cloves of garlic, peeled and smashed
1 Tsp. Ground black pepper
1½ Tbs. Whole black peppercorns
1 Tsp. Msg - optional
Directions:
*1-Cup of liquid mixture:
Combine 1 ½ oz. soy sauce, 1½ oz. vinegar, & 6 oz. water Make 2 cups of this liquid mixture for this recipe
Rinse cut string beans with cool water thoroughly and set aside.
In a casserole dish combine 2-cups of liquid mixture along with pork, garlic, ground black pepper, whole peppercorns, and bay leafs.
Cover and let it simmer over medium high heat for 20 minutes or until 60 percent of the liquid has evaporated.
Next add onions along with the string beans, cover, and let it simmer over low heat for 12 minutes or until string beans are tender.
Adjust taste by adding salt & pepper if needed. Serve hot over rice. Enjoy!
Tip:
Remember! The key of making great tasting adobo is balancing the flavors of spices and liquid mixtures evenly without over powering one another, whether your choice is dry or adobo with gravy.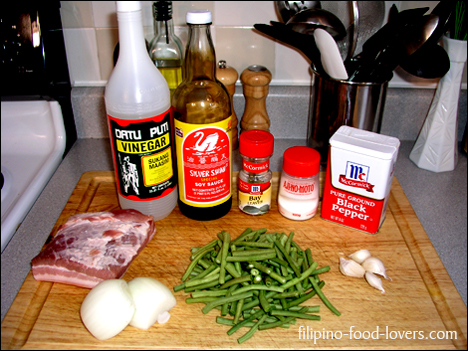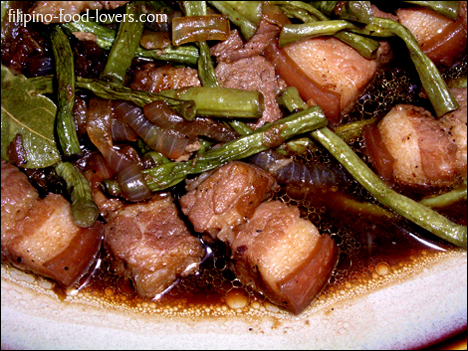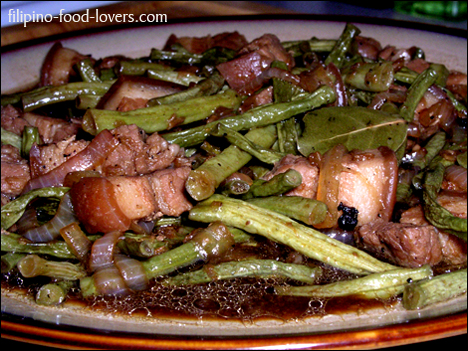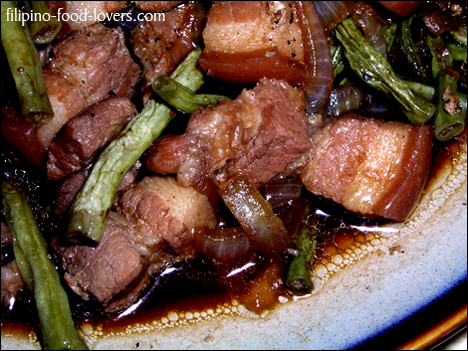 Adobong sitaw is one of the top choices when it comes to a vegetable and meat combination. String beans or Sitaw is a very common type of bean in the Philippines. Unlike the green beans here in the U.S., these beans grow as long as 36 inches in length but, they are best when harvested at about 18 inches long. You will find string beans in all types of dishes from Pakbet, (mixed vegetable stew) to Sinigang, (sour soup) and with all sorts of stir-fried vegetables. Combine string beans and meat braised in soy sauce, vinegar, spices, and fat rendered from pork belly and you will have another mouth-watering Filipino dish.