If we are talking about comfort food, Adobo is definitely the first one that pops into my head. Not to mention Adobo is one of the first dishes Filipinos learn to cook as it is simple and requires just a handful of ingredients. In good-tasting adobo, none of the spice flavors dominate but rather the taste is a delicate balance of all the ingredients.
Type of Meats:
Pork:
Pork Belly (Liempo), Pork Butt, Neck Bones, Back Ribs, Legs (Pata)
Chicken:
Wings, Breast, Chicken Cut-ups, Gizzards and Adidas (Chicken Feet)
Combination of both:
Pork Belly and Chicken Breast, or Pork Butt and Chicken Breast
Ingredients:
2 Lbs. of Meat (Chicken or Pork or combination of both)
1 Tbs. oil (optional) if you choose to cook Chicken only
1½ oz. Soy sauce
½ oz. Vinegar
6 oz. Water
6 Cloves of Garlic, smashed
3 Bay leafs
8 Whole black peppercorns
½ Tbs. Ground black pepper
½ Tbs. MSG (optional)
2 Medium size potatoes peeled & quartered
Liquid Mixture 1 Cup:
1½ oz. of soy sauce
½ oz. of vinegar
6 oz. water
How Much Mixture?

The rule of thumb is to put enough mixture just below the meat level. The measurement above is for one cup of liquid mixture.

Only make one cup of mixture at a time to pour onto the meat and if one cup is not enough just make another cup and pour it on there until you reach the right level (Just below the meat level).

Discard the rest of the mixture, if there's any left. Do not use too much mixture or you will end up with a very salty Adobo.
Cooking Directions:
In the pot add the Meat, Garlic, Ground Black Pepper, Whole Peppercorns, Bay leafs, and MSG.
Bring to a boil, lower the heat to medium low, and let it simmer for 30 minutes.
Then add the potatoes and let it simmer for another 10 minutes.
At this point you need to increase the heat to high and keep checking in 2-minute increments until the liquid is almost or totally evaporated if you prefer a dry Adobo.
Serve with rice and enjoy!
Personal Note!
I learned from trial and error when cooking Adobo. The key part is getting just the right measurements for the liquid mixture, otherwise your Adobo could end up way too salty. This is also one of the reasons the common version of Adobo is prepared dry with no gravy. What most recipes suggest is to take the meat out of the liquid mixture about half way through the cooking process and frying it after that. In this recipe I will show you the proper measurements of a soy sauce, vinegar, and water combination to achieve the true finger licking taste of Adobo without wondering whether it's going to be salty or not. With these measurements you can either cook it until all the liquid totally evaporates or you can have a little bit left for the ones who like the gravy. Either way you can't go wrong. For best results prepare this dish a day ahead, let sit in the fridge overnight, and re-heat before serving. It gives the flavors time to blend in. This process also works well for Caldereta's.
The Oops:
If your liquid dried out by accident, don't panic just add ¼ cup of water, agitate the pot, and taste it. You might have to add a pinch of salt.
Tip One:
When stirring avoid using a spoon, it will break the meat and potatoes apart as it tenderizes. Use the method below when stirring!
Tip Two:
If you decide to use Pork, use pork butt and bring the liquid mixture just above the meat (not below) and let it cook for 2 hours on medium low in order for the meat to be very tender.
Tip Three:
If you use Chicken only, add 1 Tbs. of oil into the pot.
Warning!
After increasing the heat to HIGH stir frequently to avoid scorching. The best way to stir it is to agitate the pot GENTLY in a CIRCULAR motion while HOLDING the lid firmly. Cook safely and enjoy your Adobo!
UNDER ANY CIRCUMSTANCES, DO NOT AGITATE THE POT IN UPWARD MOTION!
If you do, severe burning sensation may occur and large hospital bills may follow!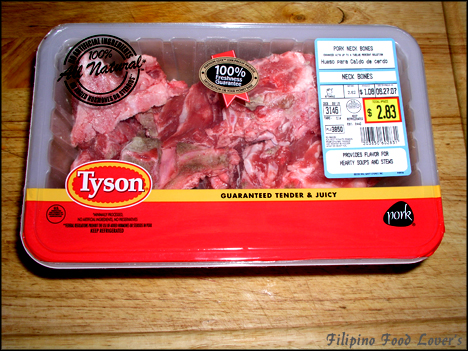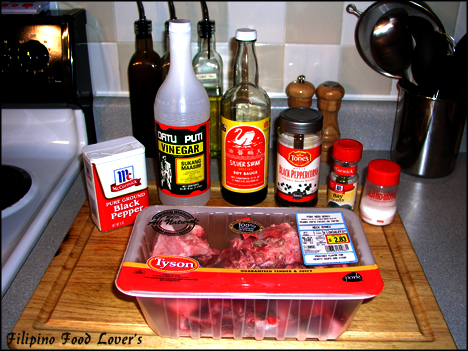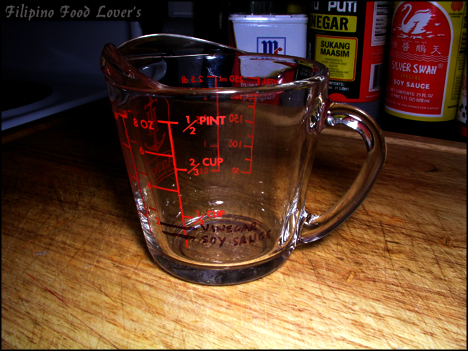 In this particular recipe I used Pork Neck Bones. And let me tell you something this one could make a very good Pulutan (finger food). You will be licking your fingers the entire time you're eating.