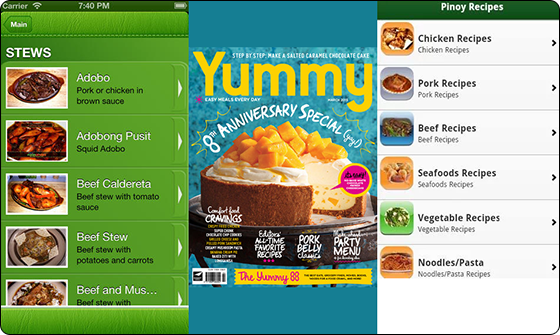 In Filipino households, the concept of a recipe book can be somewhat alien. We don't often encounter home cooks who religiously scribble recipes down in notebooks or loose sheets of paper, passing them down to the next generations of cooks. Rather, what happens in Filipino households is recipes are learned not from books, but from the cooks themselves, from watching others in the kitchen and helping out, learning to approximate measurements and season things to taste. Still, written recipes are extremely valuable when it comes to trying to learn new things, and it's for this reason that we have hundreds of sources for Filipino recipes, both in traditional print media and more contemporary sources. With the growth of mobile and tablet use, many of these recipe sources have also migrated to smartphones. In the Philippines, smartphone penetration is expected to
hit 50% by the end of this year
, tripling the number of smartphone users in the country. According to the company that relaunched
Free Bingo Hunter
for mobile markets late last year, smartphone users all over the world numbered 1 billion in 2012, and this number is expected to double by the end of this year as well. The market for smartphone apps has become quite expansive, and many recipe sources have also joined the fray. If you're already using your smartphone or tablet in the kitchen and want to continue using it to expand your knowledge of Filipino food, try the following apps: 1.
Filipino Food Lovers
Filipino-Food-Lovers.com has its own mobile app, which you can get from
from the iTunes App Store
. It contains recipes and images of delicious Filipino cuisine, as well as a grocery list feature that helps you keep track of your ingredients so you don't suddenly find out you're missing a crucial ingredient when you're already in the kitchen. Recipes are of the same quality you've grown to love on Filipino-Food-Lovers.com, easy-to-follow, and as delicious as ever. 2.
Yummy
A few years ago, Summit Media released the Yummy Filipino Food recipe app, but this app was discontinued not long after its initial release. It's unclear whether a new app will be released, but those fans of Yummy Magazine will be glad to know that digital copies of their issues can be bought and accessed via the
Yummy iOS app
. The app itself is free, but you'll have to purchase issues individually. The quality of the copies is great, and you're sure to love browsing through every issue's pages. 3.
Pinoy Food Recipes
Not everyone has a good WiFi connection at home, and an app's ability to function without an internet connection can be invaluable. That's why the
Pinoy Food Recipes app
on Google Play can prove to be a great tool. It has dozens of recipes that you can search through, with great images and easy-to-follow instructions, and because it stores its data on your SD card, you can access it all even without an internet connection. This also means that searching for recipes is quick and easy.